By Mba Ude Ude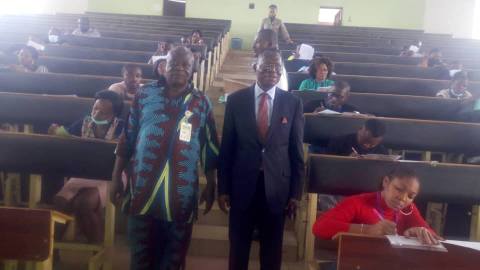 The administration and conduct of the ongoing 2022_1 Pen-on-Paper (PoP) examinations is top-notch, seamless and hitch-free, Emeritus Prof.Sogolo has said.

Sogolo stated this while monitoring the 2022_1 PoP examinations at Enugu Study Centre, Enugu State.

The Professor of Philosophy who toured Enugu, Opi and Agwu study centres said the conduct of the students were satisfactory as they focused on their examination squarely and independently; adding that there were no chaotic instances, or irregularities at any of those study centres.

Sogolo also commended the centre director, Prof. Alexander Uche Onyia, describing him as a seasoned academic, whose wealth of experience came to bear in terms of articulated and co-ordinated management of the exams, orderliness, and well-spaced sitting arrangements.

He further applauded the staff of the centre for their cooperation with the director and synergy among fellow staff members. ''

"The centre is  big, good and serene academic environment. I am satisfied that the students engaged in study groups'', he said.

While at Opi Community Study Centre, the emeritus professor also described the exercise as well organised and peaceful.

He reiterated that the 2022_1 PoP examinations  at Awgu Community Study Centre, were also without challenges, as the students were admitted into the examination halls at the proper time while supervision/invigilation was properly done.

Sogolo also commended the centre director of Awgu, Dr Oforbuike Nwachukwu, for his warmth, cordiality and cooperation during his visit.
Log in to post comments
210 views