By Inuwa Hamza Yunusa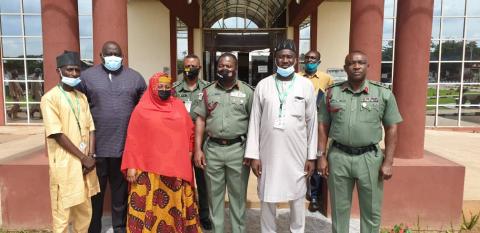 The Nigerian 44 Army Reference Hospital, Kaduna has agreed to enter into a Memorandum of Understanding (MoU) with the National Open University of Nigeria (NOUN), Kaduna Study Centre, towards utilizing the hospital facilities for the Clinical Practicum by the B.Sc Nursing students of the university. 
Acting Medical Director of the hospital, Colonel Dr. N. S Onuchukwu stated this on Tuesday, August 3rd, 2021 in a meeting with the representative of the university, and the Kaduna Study Centre director, Dr. Aminu Umar. 
The Acting Medical director disclosed that the management of the hospital is ready to partner with the National Open University of Nigeria in the training of its Nursing students, as such, all correspondences have since been forwarded to the Army Medical Headquarters in Lagos for their approval.
He said the 44 Nigerian Army Reference Hospital was established by the Federal Government to provide public healthcare facility and training to the Nigerian Armed Forces Personnel, their families and the public. 
Onuchukwu explained that the hospital has been one of the best in training medical students because of the availability of modern medical facilities and equipment. 
He commended the university for considering and choosing Army Reference Hospital, being one of the best training grounds, for the training of its Nursing students. 
Onuchukwu appreciated the partnership and promised to pay courtesy call on the centre so as to understand more on the university and also to know the available courses on ground for him to make a choice to enroll in one. 
The director, Kaduna Study Centre, Dr. Aminu Umar, in his speech, thanked the management of the hospital for the kind gesture offered to the university. 
He stated that the National Open University of Nigeria is a Federal Government-owned university, established by law and charged with the responsibility of making tertiary education available to the teeming Nigerians and all persons who are desirous of tertiary education for intellectual and professional advancement through the Open and Distance Learning system. 
He further stated that NOUN is desirous of using the Nigerian Army Reference Hospital for the purpose of conducting clinical practicum for its B.Sc Nursing students at all levels of their study in the university. 
The director further appealed for the sealing off of the MoU between the two parties in order to permit the students in the department of Nursing Science, the use of facilities for the said clinical practicum. 
He explained that NOUN operates a flexible system of learning, which allows people like the personnel of the Nigerian Army to learn at their own pace, without leaving a vacuum. 
Umar then thanked the management of the hospital for their support and promised to work hand-in-hand with them as ready to contribute their quota in the country's educational project.
The director also distributed the university's advocacy materials to some of the army personnel present in the meeting. 
Log in to post comments
51 views