By Ambrose Bernard Gowon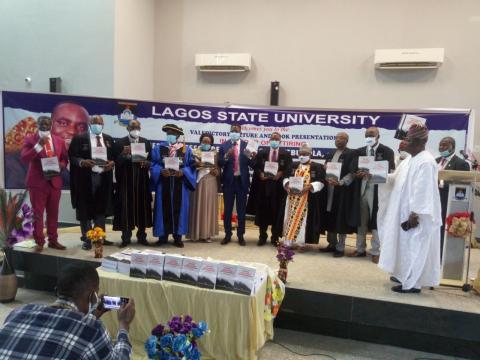 Chairman of Council NOUN Distinguished Prof. Peter Okebukola about now is retiring from glorious service at the Lagos state University (LASU).

Joining the event via zoom is former President Olusegun Obasanjo, Minister of education Mal. Adamu Adamu, Registrar JAMB Prof. Ishaq Oloyede and numerous Vice-Chancellors of both public and private universities.

In a goodwill remark, former president Olusegun Obasanjo thanked LASU for organizing such a befitting and deserving ceremony for a man who is "A foreman" a workaholic with the energy of executing four people's job at a go.

Obasanjo recalled a distinguished performance of Okebukola in his days as the Executive Secretary of the NUC.

He added that it was his brilliance at the NUC that gave birth to his closeness with Okebukola. "From then on, we started working together".

Obasanjo also described the celebrant as a truly religious man.

Already a high powered delegation from NOUN led by the Vice-Chancellor Abdalla Uba Adamu, principal officers and some directors are on ground to witness this all-important event.

Vice-Chancellor LASU Prof. Olanrewajo Fagbohun in his welcome remark said the occasion is to celebrate a distinguished and accomplished individual in the Nigeria educational landscape.

"Okebukola is arguably a leader who has spent his time in building and raising of leaders who some are here in this auditorium as Professors and Deputy Vice-Chancellors.

"He teaches how to learn and not what you learn. You've been an inspiration and a gift to us here at LASU" Prof. Olanrewajo added.
 
Log in to post comments
51 views