Tope Oyewole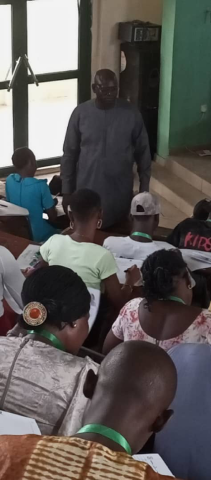 The Deputy Director, Directorate of Examination and Assessment (DEA), National Open University of Nigeria (NOUN), Dr. Adedapo Adeyemi on Tuesday, April 20, 2022 made an official visit to the Abeokuta Study Centre to monitor and assess the ongoing 2022_1 Pen-on-Paper examination.

Adeyemi, who arrived at the centre during the afternoon session, went straight to the hall to monitor the exams.
He also visited other classrooms and the centre's library extension being used to conduct the examination.

The Deputy Director took his time to assess the sitting arrangements in the examination hall and the administration of the exam as well.
He went round the hall, accompanied by the study centre director, Dr. Olusegun Oba-Adenuga; and was impressed to see that both staff and students adhered strictly to covid-19 protocols.

After his assessment and inspection, Adeyemi was visibly satisfied with the conduct of the exams. 
He commended the efforts of both the director and his staff and urged them to keep up with the good work.

Dr. Adeyemi had earlier visited two centres in the South-west region, Ibadan and Oshogbo for similar assignment.
 He made his visit to the Oshogbo study on the first day of the examination, where  he met with the study centre director, Dr. Tessy Angba who together monitored the examination.
The deputy director lauded the smooth handling of the exams at the centre.

He continued the examination monitoring assignment on day two, at the Ibadan study centre, performing same functions.
Log in to post comments
214 views