By Inuwa Hamza Yunusa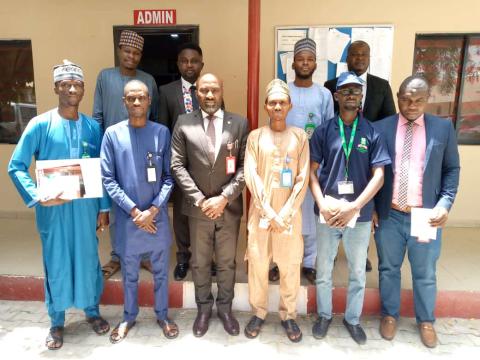 The Fagge Community Study Centre, Kano State has sensitised the management and staff of the Economic and Financial Crimes Commission (EFCC) Kano Zonal Office Kano on the existence, mode of operations and the opportunities of the National Open University of Nigeria (NOUN). 
This was also in the quest to ensure that the university increases the level of students enrollment via the centre. 
The advocacy team was led by the overseer of the centre, Dr. Aliyu Ibrahim and centre's representative, Mr. Ameer Salisu Hamza. 
Ibrahim, in his speech, stated that the team was at the office for the purpose of educating the staff on the existence of NOUN, its mode of operation and the bountiful benefits brought to their door steps.
He maintained that the university was established by an Act of the National Assembly like any other university in the country and its affairs were regulated by the National Universities Commission (NUC). 
The overseer further stated that the university has eight faculties with more than one hundred accredited academic programmes. 
He added that NOUN has 103 study centres that cut across the 36 states of the country including the Federal Capital Territory. 
On his side, the centre representative, Mal. Amir. S. Hamza, disclosed that NOUN provides an avenue through which students can read at their own pace and at any place.
He added that NOUN is an Information and Communication Technology driven institution which qualifies it as the university of the 21st century. 
Moreover, Hamza maintained that the university is the only institution that allows one to pursue his or her education without leaving any vacuum in his place of work.
He therefore called on the staff of the formation to use the opportunity and enroll themselves into the university. 
He thanked the EFCC Zonal Office for the opportunity given to them to discuss and share more about the activities of NOUN. 
Earlier in his address, the EFCC Zonal Head, Mr. Farouk Dogondaji, represented by Mr. Michael O. Nzekwe, said the relationship between the University and EFCC is not new.
Dogondaji explained that they currently have about 26 of their staff undergoing various programmes in the university. 
The zonal head, while turning to the operations of the commission, stated that the command comprises of three states: Kano,Jigawa and Katsina.
This visit, Dogondaji said, will no doubt going to cement the existing cordial relationship between the NOUN centre and the Zonal Command. 
To this end, the commission has promised to do all it could to encourage its staff to enroll so as to help in the achievement of a more active students, he added.
Log in to post comments
122 views