Murtala Usman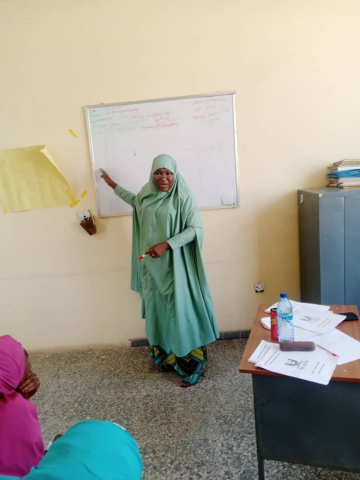 Being one of the requirements for the award of degree certificates in Nursing Science and Public Health Science at the National Open University of Nigeria (NOUN), students of the Faculty of Health Sciences have on November 21, 2022, held a seminar presentation at the Bauchi Study Centre, Bauchi State.

The students were drawn from Nursing and Public Health Science Departments who have registered for Nursing Science NSC 418, while those in the Public Health Science PHS 822 and PHS 512, respectively.

The presentation was coordinated and supervised by Dr. James Iliya Kyamru from Abubakar Tafawa Balewa (ATBU), Bauchi, with the total of 40 students in attendance.

The assessors, who happened to be centre's facilitators, did not leave anything to chances as they grilled the students to test the level of understanding of their field of study.

Some of the topics discussed were "Assesssing the knowledge of the danger of illegal abortion among female students of the  tertiary institutions in Bauchi state."

"The implications of increased rate of disabilities on the growth of the Nigerian Economy,"
"Antecedents and Consequences of Maleria Disease: Treatment and Prevention

"Assessment of Knowledge, Attitude, and Practice of immunization among parents of Children 0--23 months in Potiskun Local Government Area of Yobe State.

Students had during the presentations either in group or as an individual were asked questions which aimed at testing the degree of their understanding on the topic under discussion.

At the end of any presentation after observations and series of questions were made, the assessors commended their efforts of the students for their dIligent insightful analysis and also asked them to effect the necessary corrections.

in another separate forum, the  Centre also organized a Micro Teaching Practice (EDU216) at the centre

The Micro Teaching Practice was both supervised and facilitated  by Dr. Sa'adatu A. Muhammad who is currently an Associate Professor with Abubakar Tafawa Balewa University (ATBU), Bauchi in the Department of  Physics education

The Facilitator had spent 30 minutes briefing the students on the aim of the course before the presentation and also used 30 minutes in  evaluating their performance after the presentation

She all made observation upon which the students are advised to avoid when going for teaching practice I and II.
Log in to post comments
45 views