By Mba Ude Ude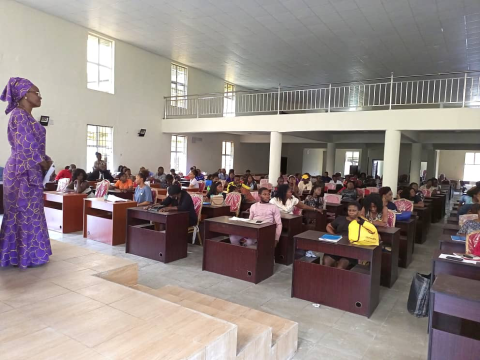 The management of Owerri Study Centre of the National Open University of Nigeria (NOUN), has held a  1-day examination briefing for both staff and students in preparation for the forth-coming 2021_2 examination.
The exercise is scheduled to kick-start on Tuesday, 9th November, 2021 across the university's study centres nationwide.

According to the centre director, Dr. Ettu Theresa Ucheoma, the building of the new examination hall with gallery as well as the provision of tables and seats by the university management was a game-changer, a dream come true, even as she chronicled the processes that brought them to the present centre.

 In the  spirit of  gratitude, Ettu thanked the university authority for the benevolence and magnanimity that gave the centre a befitting facelift, as students also lent their voices towards the centre director's gratitude. 

She explained that the university management holds examination in high esteem and advised students to live above board during examination, stressing that the institution would not tolerate acts capable of bringing the image of the university into disrepute.

 Speaking further, the centre director disclosed that success comes with hard work and determination and implored them to "marry their books and be studious," as she reeled out the  dos and don'ts of the examination.

On the part of staff, Ettu appealed to them to be punctual, cooperative and imbibe the culture of team work for the overall benefit of the university.

She unequivocally stated that no lackadaisical attitude would be condoned as the university expects nothing but the best from the centre.

 "You must be strict and firm in handling students (clients) but with the virtue of maturity," Ettu stated.

While expressing her optimism that the exercise would be seamless, she also prayed to the university for the installation of electricity, Air-conditioners and fans at the new building to improve the atmosphere during examination.
Log in to post comments
169 views