By Ibrahim Kabiru Sule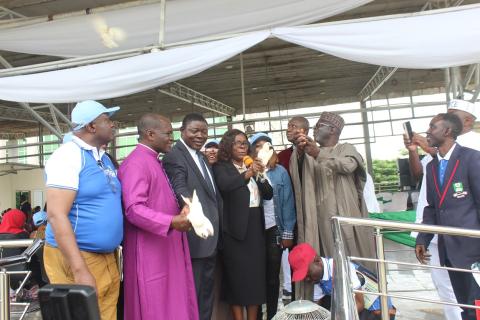 The Department of Peace Studies and Conflict Resolution, National Open University of Nigeria (NOUN), has joined the world in celebrating the United Nations' International Day of Peace to remind people of the need to recommit to peace above all differences.
The annual event, being celebrated on September 21st, was marked at the university for the first time, where a book, "Peace Building and Nationalism," was launched.
It was held at the university's headquarters in Abuja with the participation of relevant agencies, including the Hon. Minister of FCT, the NSCDC, UN, National Orientation Agency, as well the National Centre for Women Development, Abuja.
NOUN Vice-Chancellor, Prof. Olufemi Peters, expressed happiness as the university joined the rest of the world in observing the "Peace Day" even as he commended the head of the department, Dr. Iroye Samuel Opeyemi, for organising the event.
He said the importance of the day could not over emphasised especially as the country needs peace more than ever before.
"this day therefore, reminds us of the need to commit to peace above all differences of tribe, region, religion, gender, sex preference and orientation or cultures.
"We must constantly remind and urge ourselves to develop a culture of peace. This should start from our little corners, units, departments, faculties, universities, the nation and the world at large,", the vice-Chancellor, represented by his deputy, administration, Prof. Isaac Sammani Butswat, said.
Peters listed things such as education, arts, social justice, sports, health environment and other neighbourhood issues as some of the ways through which peace could be created and called for the strengthening of ideals of peace in societies.
The Minister of FCT, Malam Muhammad Musa Bello, represented by the ministry's Secretary for Education, Malam Sani Dahiru El-Katuzu, urged the university to "groom the department" and convert it into institution as is being found in other climes.
He said while the ministry was happy for the selection of the city in celebrating the day, it was also using the occasion to remind everyone of the need to commit to peace irrespective of every nuances.
Commandant General of the Nigeria Security and Civil Defence Corps (NSCDC), Abdullahi Gana Muhammadu, represented by Assistant Commandant General, Intelligence Department, Prof. Iruoye, applauded the university for what she described as "expanding the frontier of knowledge."
She said the book launch "marks a giant stride in the country's quest for a peaceful co-existence, explaining that peace building is beyond conflict management, one that requires collaborative efforts from multi-layer partners.
The head of the department, Associate Prof. Iruoye Opeyemi had earlier welcomed participants as well as other invited guests to the maiden conference and thanked the university management for making it possible.
Log in to post comments
109 views