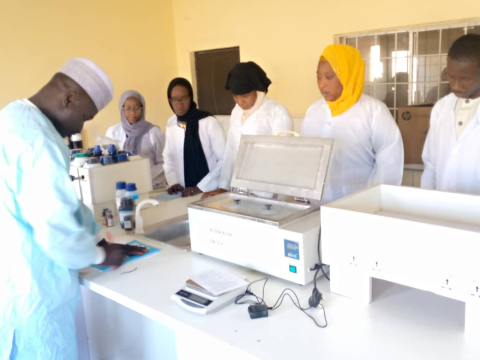 The Faculty of Sciences, National Open University of Nigeria (NOUN), has on Monday, 11 October, 2021, kick-started the 2021_2 laboratory practical for all the science students of the university.

The exercise, scheduled to last for two weeks, will be held in all the six geo-political zones in the country.
 
Director, Bauchi Study Centre, which is the venue for the North-east zone, Prof. Mohammed Bello Abdullahi, while welcoming the students, advised them to follow the guidelines strictly and ensure they participate in all the activities lined up for them.

He informed them that what they learn physically would make them to remember and demonstrate the practical knowledge of their courses, which forms the basics of the exercise.

to this end, students across the region are presently undergoing a hands-on laboratory practical on courses such as Physics, Chemistry, Biology, and Computer Science at the centre.

According to the information placed on the university's website and earlier circulated to the study centres by the Faculty of Sciences, it said the practical was "In line with Science practice worldwide and Senate directives. The Faculty of Sciences is incorporating science practical as compulsory for all students taking science courses."

it added that the laboratory practical is an integral part of science courses as student's grades in hands-on practical will constitute 15% of the TMA.

While the students dressed in a white-sleeve laboratory coat, practical manuals were provided to record observations and their reports.
Log in to post comments
235 views