Miriam Obierika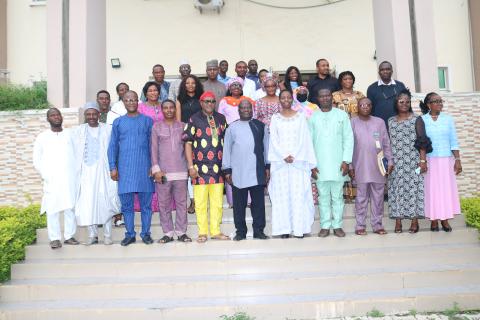 The Vice-Chancellor, NOUN, Prof. Olufemi Peters, has felicitated with the former Dean, Faculty of Sciences, Prof. Monioluwa Olaniyi on her new appointment as the pioneer NOUN Deputy Vice-Chancellor on Technology, Innovation and Research.
Peters, represented by the Deputy Vice-Chancellor, Administration, Prof. Isaac Buswat, said the position was a well-deserved one for the former dean, who now occupies the third DVC office, the first time in the university's history.
He said this at a celebratory/send-forth event organised by the faculty at the NOUN headquarters, Abuja.
The VC commended the faculty for organizing such an event to celebrate one of their own. ''When a person is recognized and elevated for their hard work, it is a good thing to celebrate with them.''
The Dean of the Faculty, Prof. Ajibola Saheed, congratulated his predecessor and commended her for being hardworking, intelligent and selfless.
 
He also described her as a woman of diverse knowledge who has amassed a wealth of experience both in her field and outside her field.
"She is a goal-getter who led the faculty well as a dean. So the university has made the right choice by bestowing her with this new role, because she is capable and well equipped for the job," Saheed said.
Congratulatory messages, words of advice and prayers were poured-in by her colleagues in the faculty, who took turns to thank her for being a mentor and for her contributions to the growth of the faculty.
On her part, Prof. Olaniyi in her response, expressed her deep gratitude for the golden opportunity to serve the university in such a capacity.
"I want to thank the Vice-Chancellor for giving me this opportunity to serve in your cabinet. I am honoured to step-in to these shoes and promise to give my best to the growth and success of the university," the DVC said.
She thanked and appreciated her colleagues and staff of the faculty for their immense support towards the growth of the faculty all through the years.
She was later presented with gifts and souvenirs by the various departments in the faculty.
Log in to post comments
151 views