By Ambrose Bernard Gowon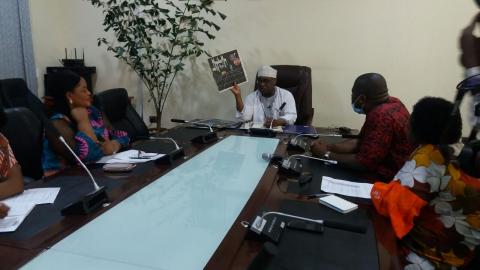 Earlier today, the outgoing Vice-Chancellor, Prof. Abdalla Uba Adamu, granted some staff of the Directorate of Media and Publicity an in-depth interview solely on his passion and interest in rapping.

The interview, which entirely centred on the VC's talent to rap as well as other musical interests, is billed to appear on the newly introduced "NOUN Talent" page on the monthly NOUN News magazine, which the Director, Mr. Ibrahim Sheme, said will feature any talented NOUN staff, irrespective of cadre, department or position.

The page was introduced to fish out NOUN talents on any field or activity, talk to them and gice them opportunity to voice out their motivating factor as a way to inspire discerning minds.

Keep a date with the NOUN News magazine to read the compelling revelations that truly made the Vice-Chancellor "the only VC that raps," and how it all started right from childhood.
Log in to post comments
83 views