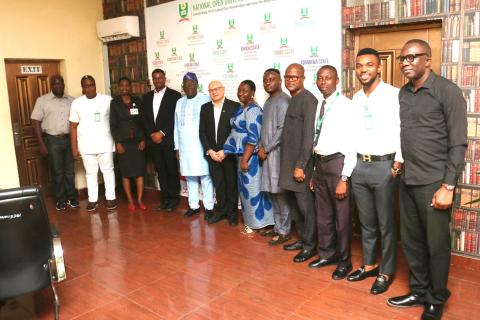 A 2-man delegation from the World Bank and French Development Agency (FDA) has visited the African Centre of Excellence on Technology Enhanced Learning (ACETEL) for project assessment.
The visit held on April 21, 2022 at the headquarters of the National Open University of Nigeria (NOUN), Jabi, Abuja was to evaluate the activities of the centre towards achieving the aim of the project.
NOUN Vice-Chancellor, Prof. Femi Peters in his speech, appealed for the prompt support of the sponsors of ACETEL considering the gigantic nature of the project.
He added that more autonomy should be given to the centre for the achievement of the stipulated milestones required by the project.
''We will continue to support the centre and get more staffing to assist ACETEL,'' Peters said.
The Team Lead, Mr. Dilip Parajuli, who is the World Bank Supervisor of Africa Centre of Excellence projects in Nigerian universities, informed that the visit was to ascertain the progress of the project and the challenges encountered since inception.
Speaking further, he said the structure of the university has significantly assisted ACETEL to reach its current height.
''I am very excited; my gratitude goes to the university for so much support to the centre. The quality of the work is commendable,'' he said.
While commending ACETEL, Parajili advised the centre strengthen its synergy with other sectors for more institutional impacts.
Earlier in her speech, the director of the centre, Prof. Grace Jokthan, informed the team that the centre has enrolled 147 students nationally and internationally since inception and has conducted 11 short courses with over 1,069 participants across genders.
She further intimated the team of the success and challenges of the centre since inception, showing the disbursement link indicators, ongoing projects and next steps.
''We want to be a hub of experts that can support teaching experts in learning and provide infrastructure where necessary,'' Jokthan added.
Log in to post comments
181 views