Justina Undiandeye & Sunday Adama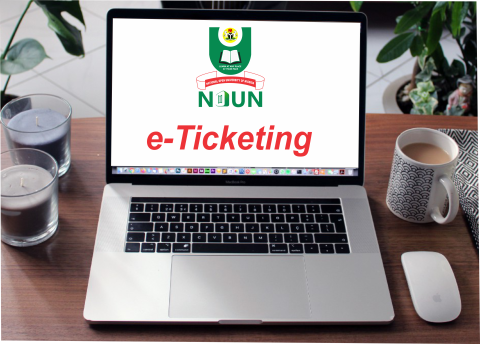 That the National Open University of Nigeria (NOUN) is a technology-driven institution is no longer news. What people are interested in is how NOUN is deploying technology to achieve its aims and objectives. It is on this basis that the institution recently  launched and introduced e-ticketing platform for its teaming students.
Take or leave it, we are in the world of e's: E-government, e-commerce, e-business, among others. In NOUN, for instance, we have e-exam and, of course, e-ticketing.
The e-ticketing platform is an important learner support system to address queries from NOUN's students on any issue that relates to the essence of their studentship. This is aimed at enhancing the level of satisfaction of NOUN's students in its service delivery thereby giving them better experience as NOUN students.
While speaking during the formal launching of e-ticketing system on Tuesday, 7th June, 2022 at the University headquarters,  Jabi, Abuja, the VC of NOUN, Prof. Olufemi Peters said, "Part of our schedule is innovation and this is one innovation. I'm happy that finally, today, we are resolving students' complaints to challenges through a particular approach that will improve effectiveness and efficiency".
According to him, e-ticketing is in tandem with the tenet of Open and Distance Learning  (ODL) adding that it is "one of the kernels, one of the pillars of ODL, which is learner support services".
The VC further said that "since students are not with us" to lodge their complaints as is done in conventional universities where students could move to  the departments to ask questions, we must make every effort to bridge distance between  them (students) and the University.
"Therefore, the University must make every effort to bridge distance between where they lived and where we are. This is all the essence of what we are doing here today - bridging the gap, bridging the distance", the VC said.
Speaking further, he said: "we cannot reduce complaints of students but what we want to do is if they (students) have any complain we resolve it as quickly as possible so that they can be rest assured that the people that you are not seeing, they're taken care of".
Corroborating Prof. Peters' statement, during her welcome address at the launching of e-ticketing, the Deputy Vice-Chancellor, Technology, Innovation & Research (TIR), Prof. Monioluwa Olaniyi  who described the e-ticketing system as "landmark" and also "very important" added that the system is to ensure student's complaint is brought to zero level.
While thanking other stakeholders for their contributions towards the success of the e-ticketing training-cum-launching, the DVC TIR said that "the e-ticketing system will address several challenges" adding that "we've arrived at a structure we believe it can work"
Already, some members of staff of the University have been trained to be in-charge of the platform. They are popularly referred to as agents and supervisors while the site for students' login is: support.nou.edu.ng. The   e-ticketing platform has nine categories and sub-categories which is based on students' frequently asked questions. On the platform,  there is also a provision for attachment where students can attach documents or files in relation to their queries.
At this juncture, it pertinent to take a cursory look at the main categories of e-ticketing platform: Student account category handles complaints related to finance.  Academic Registry category addresses issues like enquiries on certificate collection, change of Study Centres etc. Students lndustrial Work Experience is a category that handles enquiries on internship among other sub-categories. Faculty/Departments category handles graduation matters, change of programme,  entry level among others. Others categories are: DICT, student portal issues, Postgraduate, result-related issues, and eLearn portal, with their respective sub-categories.
It should be noted that e-ticketing platform is not only designed for complaints, students can also raise tickets to  naked enquiries on diverse students-related issues. The platform can be accessd by the NOUN students at any of their location, whatever the student 's Study Centre.
Regarding prompt responses to student's queries,  the platform is designed in such a way that duration for treating  queries received depend on the issue at hand. However,  students should be rest assured that once he or she raises a ticket, they will always received a feedback on the ticket raised. The duration for resolution could range from less than an hour to a few hours.
By and large, it is apparently obvious that NOUN has blaze another trail with the introduction of e-ticketing. E-ticketing is student-friendly, accessible,  reliable, time-saving, efficient and cost-effective. Above all, e-ticketing  is not only commendable but also a welcome development as NOUN students will henceforth heave a sigh of relief.
Undiandeye and Adama are Staffers of the Directorate of Media and Publicity,National Open University of Nigeria (NOUN),Abuja
Log in to post comments
198 views