SUNDAY ADAMA & MARY AGBOKUTAYE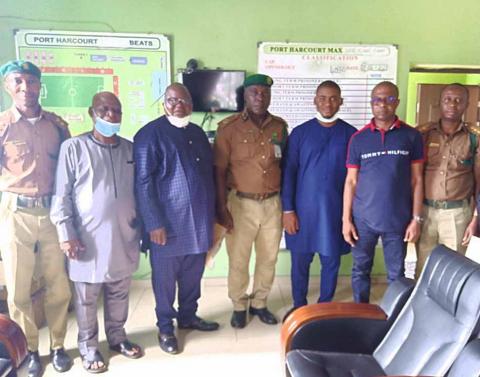 By SUNDAY ADAMA & MARY AGBOKUTAYE
One of the core principles of establishing the National Open University of Nigeria (NOUN) was providing a highly accessible education to all and sundry and this cornerstone goal for the first and only Open and Distance Learning (ODL) university in the West African sub-region means more than a mere access.
Apart from being known for taking tertiary education to the doorstep of Nigerians ever since its coming to being, NOUN has also carved a niche for itself in providing a flexible, cost-effective and quality education. This, however, has been taken a bit further by the foresight of the university's management. 
Fifteen years ago, the university, in its own wisdom, decided to give a partial scholarship of up to 50 percent to inmates across the country. The scholarship runs the gamut of undergraduate and postgraduate programmes offered by the university. This was certainly a trail-blazing idea, one that would later be recognised by the Paris-based United Nations Educational, Scientific and Cultural Organisation (UNESCO).
According to the Greek philosopher, Aristotle, "The purpose of education is the development of the character of the young." In the light of this irrefutable fact, NOUN's free education for inmates of the Nigerian Correctional Service (NCoS) across the country is not only timely but a welcome development.
 As Aristotle rightly stated, the essence of NOUN's education-in-prison initiative is to "develop the character of the young" (inmates). This move is in tandem with the functions of the Custodial Service as enshrined in the Nigerian Correctional Service Act of 2019. According to Part 1, section 10 (h) of the Act, one of the functions is "empowering inmates through the development of educational and vocational skills training programmes and facilitating incentives and generation through Custodial Centres, farms and industries."
As a matter of fact, NOUN 's free education for inmates is a right step in the right direction. This act deserves commendation by all stakeholders because NOUN singularly keyed-in to the Federal Government's transformation policy of inmates by initiating behaviour modification in them through the provision of free education. This act will enhance speedy reformation, rehabilitation and reintegration of inmates after serving their term.
Consequently, since NOUN started education-in-prison initiative in 2006 with the establishment of Kirikiri Maximum Security Custodial Centre, Lagos, which served as initial template for other Centres, the university has not relented in its efforts.
In 2017, the university graduated 30 inmates in Kaduna on Computer Appreciation through the combined efforts of NOUN's Centre for Human Resources Development (CHRD), Kaduna State Ministry of Justice and Kaduna Convict Prison.
The then Vice-Chancellor of NOUN, Prof. Abdalla Uba Adamu, while advising the inmates, said: "After serving your term and you are out of this place you can be useful to members of the society and be able to engage in one thing or the other."
Moreover, in 2018, two inmates enrolled for Ph.D, having successfully completed their Masters' programme while in incarceration. In addition, during the recent 9th and 10th combined Convocation Ceremony, which was held both physically and virtually on the 30th January, 2021, 23 inmates graduated nationwide.
Buoyed by the continuing success of the programme, the Nigeria Correctional Service issued a statement signed by its spokesperson, Mr. Francis Enobore, announcing the number of inmate graduates from the preceding NOUN convocation ceremony. It further disclosed that "a total of 3,000 inmates are currently running different degree programmes with the NOUN…Presently, the Service has 12 Special Study Centres in different Custodial facilities across the country."
All these point to the fact that NOUN is really involved in character development via education based on the Aristotlean perspective.
Since 2016 when NOUN granted free education up to PhD level for any interested inmate as part of its contribution to national development, a total of 36 inmates have so far graduated in different fields of study, such as Conflict and Peace Resolution, Political Science, Law, Sociology, Guidance and Counselling among others.
Obviously satisfied with the NOUN's giant stride in free education for inmates, the NOUN Registrar, Mr. Felix I. Edoka, re-echoed what the NCS said, assuring that "a total of 3,000 inmates are currently running different degree programmes with the NOUN, while 50 are undergoing National Certificates in Education (NCE) at Yewa College of Education, Ogun State."
He further stated that as at present, "the Service has 12 Special Study Centres in different custodial facilities across the country." This clearly indicates that NOUN is actualising its mandate of making education accessible, affordable and flexible to Nigerians.
Apart from the 100% fee waiver for inmates, to make teaching and learning easier for them, NOUN is constantly renovating and equipping Custodial Centres' buildings, supplying ICT facilities like computers and internet, provision of power generating sets, desks and study materials in print and electronic formats. Also, it has dedicated members of staff, including professional counsellors, to providing counselling services to the inmates.
Now, what do we do as an individual or an organisation to see to it that we are also involved in this good work? What role do we play to make Nigeria a better society? Remember, incarceration is not separation from the society; inmates are still part and parcel of us! Indeed, these inmates need our help either directly or indirectly.
In the first place, let's us take a cursory look at the inmates, both serving and ex-inmates who have graduated from NOUN. They should make it a duty to continually reciprocate the university's kind gesture by living a crime-free life, total renunciation of crime and making a profitable use of their certificates. Also, inmates should not take the education they have acquired with levity. Through this, NOUN's kind gesture will not be a wasted effort.
In the same vein, NOUN should not relent in its effort. Providing free education for inmates is a good work; it's rewarding. Let us take another cursory look at the concept of good work. Any service sincerely rendered to the hopeless, the helpless, the needy, the poor, the despised, the forgotten, the down and out, the defenceless and the less privileged ones in the society is a good work. In fact, doing this is service to God and humanity. Remember, selfless service will not go unrewarded. Therefore, despite numerous challenges, NOUN should keep the ball rolling!
Furthermore, individuals and non-governmental organisations have a tremendous role to play to augment what the university has been doing. They can do this through words of encouragement, recommendations and awards. In this respect, UNESCO's recognition of NOUN is still fresh in our minds. NOUN's kind gesture attracted global recognition when it received an honourable mention during the 2018 award ceremony of UNESCO/Confucius Prize for literacy in Paris. This award is worthy of emulation by all.
Also, individuals, NGOs and relevant stakeholders can contribute their quota to human development by supporting NOUN in form of donations, provisions of facilities and other things that can make inmates' education run seamlessly.
Therefore, government at all levels should make it a point of duty to introduce interventions and giving incentives towards supporting this onerous task of giving education to inmates.
One can conveniently think of initiatives like Inmates Education Trust Fund (IETF) or Inmates Education Intervention Programme (IEIP) among others. By so doing, inmates will have a sense of belonging. Reformation, rehabilitation and reintegration of inmates will become easier.
Adama and Agbokutaye are staffers of the Directorate of Media and Publicity, National Open University of Nigeria (NOUN), Abuja
Log in to post comments
114 views