By VC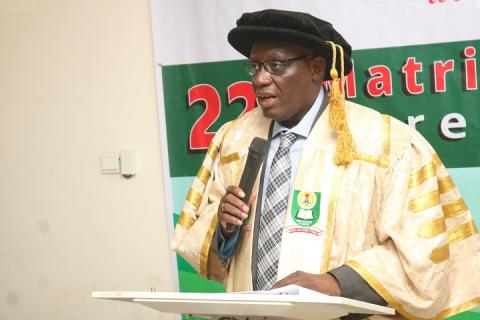 Protocols.
Dear Matriculating Students,
On behalf of the Governing Council, Senate, Management and Staff of the National Open University of Nigeria (NOUN), I happily welcome you to this 22nd Matriculation ceremony of our institution.
Today, over 20,000 of you, having been duly registered into various programmes in our University, are being matriculated across our various study centres. By this, you are now a bona-fide member of the largest University in Nigeria and indeed the West Africa sub-region. Congratulations.
It is my pleasure to inform you that our University, the National Open University of Nigeria is unlike most universities in Nigeria. It is indeed the only accredited single mode Open and Distance Learning (ODL) institution in Nigeria. As the name suggests, our mode of learning delivery is unique, in that, we conduct our teaching basically through provisions of content which are delivered through both physically and electronically. This ensures that, you will learn at your pace, at any place. We offer you the flexibility and access that guarantees equality and equity in the right of education for all.
Beyond the flexibility that we offer, the predictable nature of the calendar of your academic programme in this University attests to one critical truth, which is, that your fate is in your hands. This calls for a higher level of responsibility to self, as you will, more than your colleagues in conventional universities, be required to dedicate yourself to timely and appropriate use of our learning materials, instructional videos and other teaching aids which shall be made available to you at the various study centres you have chosen. Your ICT skills shall be put to test in our learning environment, which offers the most dynamic and forward looking mode of instruction fit for a post covid world. I implore you therefore, to take your sojourn in our University with all seriousness.
Our over one hundred and three study centres and the headquarters are equipped with academics, professional ODL administrators, counselors and appropriate learning infrastructure, including e-library facilities, to provide the support that you will need for a successful higher educational experience. It is my steadfast desire, that at the end of your term at NOUN, you will have acquired not only the knowledge and skills, but the appropriate strength of character and tenacity to sail through the challenges of a modern world of global competition. It is also my belief that you will be able to contribute meaningfully in the elevation of our country, Nigeria to its deserved place of greatness in Africa and the world.
To reduce the distance between you and us, we are further set to deploy in the next few weeks, a feedback system to harvest and resolve complaints that may arise in your interface with our various units. This has been coupled with other service delivery applications (including assessments - tutorials, tests and examinations) to provide a most rewarding, online study experience.
Before I conclude this address, it is important to state that every one of you is now our Ambassador. The uniqueness of our University makes our graduates the focus of special interest and assessment by others, who are eager to determine the quality of training invested in you, whilst here. Therefore, I urge you to be well behaved and to extend the mantra of NOUN which is, quality education delivered with equality and flexible access, to learn at your pace at any place, to your family members, friends and colleagues, as well as partners and associates in society and in the world of business.
I challenge you to make the best use of the opportunities at your beck and call, for learning and excellence in this University, to improve your self-worth. Note that your resulting prosperity afterwards, is a shared success. Success for you, your immediate family and friends, for your Alma Mater – the NOUN, for Nigeria and the world.
I congratulate you once again. God be with you.
Professor Olufemi Peters
Vice-Chancellor.
Log in to post comments
334 views