By VC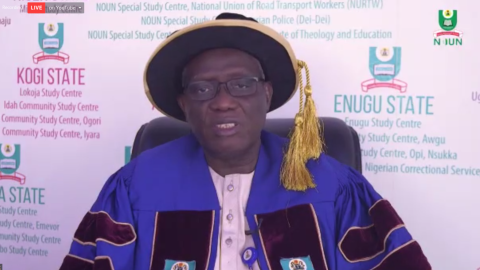 Protocols.
Dear Matriculating Students,
On behalf of the Governing Council, Senate and Management of the National Open University of Nigeria, I welcome you all wholeheartedly to the 2021_2 Matriculation ceremony of our fresh students. This occasion, though a routine that over the years appear to be losing its significance, is unique and will continue to be inspiring because it remains a statutory gathering to formally admit deserving and qualified candidates who are fortunate to be offered admission into higher education.
At the close of the registration exercise for this semester, about 15,000 of you, excluding our special students from the correctional Centres, have been registered into the various programmes run in this University.
Your choice of the National Open University of Nigeria for the pursuit of your academic laurel is indeed well-informed. The National Open University of Nigeria is the largest University in Africa and the only accredited single mode Open and Distance Learning (ODL) institution in Nigeria. It provides you, among other opportunities, the leverage of flexible learning, this is encapsulated in our motto: Learn at your pace, at any place. You are, therefore, privileged, by this formal induction into NOUN today, to be a bonafide member of the largest community of Open and Distant Learning in Africa.
My dear students, please permit me to call you clients, it is my delight and responsibility to assure you that I, indeed the entire management and NOUN community, is committed to making your stay in NOUN seamless, peaceful and safe. We will endeavor to provide you excellent opportunities to learn in an atmosphere of mutual respect, justice and quality service delivery. We are determined to make your learning rewarding and satisfactory. I am aware that you have undergone an orientation programme in open and distance learning. Our learning content and service delivery facilities are being upgraded continuously with state of the art methodologies and innovations in the use of information and communications technology. The present challenges of Covid-19 has moved us further and faster in this process. Our registration process is being simplified further, a ticketing system is being developed to attend to your requests for information and complaints. Whichever is your location of choice among our 103 study centres, our mandate is to ensure that you get the best in terms of online facilitation, portal access for information, learning content delivery, CBT examinations and assessments.
Your welfare and satisfaction is paramount to us. Therefore, our study centres are being renovated and modified for effective and ever improving service delivery. Our curriculum, course materials development, information request, service delivery and examination administration processes are continuously reviewed to advance your learning experience. Our e-library facilities are replicated in all study centers. This will be enhanced further.
As we strive for perfection in the deployment of cutting edge technologies for learning and service delivery, the process may encounter challenges. Some of these will be related to the state of infrastructure in this part of the world. I urge you to be resolute when challenges arise, as they are part of life, even in learning. Please seek assistance promptly and demand our attention, in a friendly and cooperative manner. Maintain a positive attitude. We are in this together.
You are now our Ambassadors. I, therefore, earnestly urge you, do not become a disgrace to this big family of ours. It is my cherished wish that you hold each other to the promise of honourable conduct that you just made. I am challenging you to be the generation that will restore Africa's honour, and help change this continent.
Finally, I challenge you to be studious, thirst for knowledge, test the limits of ideas, be exploratory and of good courage. Education liberates the mind. Pray, you will emerge at the end of your studies, champions of nation building, productivity, technological advancement, norm challenging breakthroughs and global competence, with skills that will enable you to solve real-life problems in the new world. The world is your stage. Be prepared at all times.
Once again, I congratulate you on this rare opportunity to excel and advance the frontiers of prosperity.
You are welcome. I wish you the very best.
Professor Olufemi Peters
Vice-Chancellor
Log in to post comments
230 views