By Inuwa Hamza Yunusa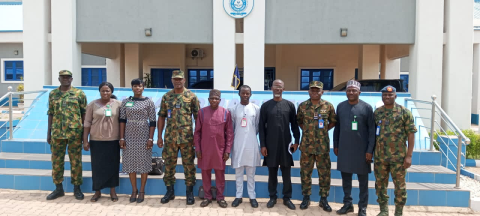 The Air Officer Commanding, Air Training Command, Air Vice Marshall N. N. Annaba, has received a high-powered delegation from the Special Study Centre for the Nigerian Air Force, Kaduna of the National Open University of Nigeria (NOUN) to congratulate him on his new appointment

The team was led by Professor Nda E. Mundi, who is the director of the centre, and who used the opportunity to explore other familiarisation avenues between the two organisations.

AVM Annaba was newly appointed as the new Officer Commanding, Nigerian Air Force Base, Kaduna.

Mundi congratulated the new AOC on behalf of the council, senate and management of the university.

The visit was to further sustain and strengthen the tempor of the existing good relationship already established between the two stakeholders, said Mundi.

On the other hand, the director highlighted that NOUN, as an academic institution, is charged with the responsibility of taking education to the door step of every Nigerian.

"For true and absolute representation, the National Open University of Nigeria has more than one hundred study Ccentres across states and communities in Nigeria," he said.

He further stated that about seventy percent of the total students population are drawn from the air military formation and there have been a continuous massive enrollment of students into the centre.

In light of the this, Mindi added that "the management of the centre and the university as a whole, put on a request to the authorities of the Nigerian Air Force to improve on the infrastructure at the centre."

The director hinted to the AOC that a request for more facilities has since been penned down and transmitted to the office  of the Chief of Air Staff.

He, therefore, appealed to the Air Commanding Officer to assist the centre and the university as a whole to follow up on the matter.

The host said he was honored for the visit and appreciated the management of the NOUN for the kind gesture.

Annaba also showed his appreciation and commended the management of the centre for seeing to the growth of enrollment at the centre.

"A lot of air personnel and beyond get enrolled into the university which I am one of them.

On the issue of infrastructural difficiencies, he stated that he was already aware even before being told.

He further informed the team that he was happy to know that the management has taken the necessary steps towards that.

On the follow up, the Air Officer Commanding promised to do all he could to ensure all the needed facilities are provided at the centre.

He demanded for the copy of the acknowledgement for further action.

On the side of NOUN, Annaba urged the university management to visit the Chief of Air Staff for a courtesy and follow up visit.

Moreover, he also promised to tarr the access road to the centre and will work towards contributing to the success of the university.
Log in to post comments
336 views