By Emem Oshionebo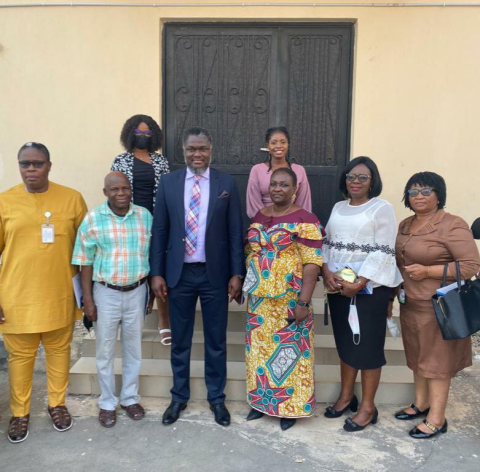 The World Bank-assisted Africa Centre of Excellence on Technology Enhanced Learning (ACETEL) has embarked on a facility and capacity tour with a focus on setting up virtual e-Forensic Lab for the centre's programmes.
The establishment of the laboratory will enable the access of ACETEL programmes to both local and international students.
The centre, led by its director, Prof. Grace E. Jokthan, undertook the inspection on Thursday, 20 January 2022 at the headquarters of Digital Footprints, Idu, Abuja, where she said the visit was to enable them understand the strengths of the potential partner for appropriate planning and decision.
"We have seen that you have trending packages in the cybersecurity field that can serve as short courses to students and beneficiaries. I am looking at working with you to develop modules in these courses. It will be easy for us to work together," she said.
The director also revealed that ACETEL will be organising a conference on cybersecurity and digital library in the first quarter of the year as she invited the organisation to participate.
"Our students will be some strength to you, and you will be helping us meet our mandatory requirements for their graduation," Jokthan added.
Earlier in his presentation, the CEO of Digital Footprints Dr. Engr. Tombari Sibe, stated that his organisation was born out of the need to fill a very wide gap in the society, as Nigeria has several cases of cyber-crimes.
He added that their vision is to be Africa's most ethical and innovative digital forensics and cybersecurity consulting company.
"I commend the National Open University of Nigeria (NOUN) for taking cybersecurity message to the corners of Africa and the country. Universities that offer this opportunity in Nigeria are very few. We will gladly support you in all ways that we can. One of my best hands is a graduate of NOUN,'' he said.
While on the tour, he explained explicitly the activities of the various departments, exposing their areas of strengths and capacity.
''We have the industry and classroom experiences. I will consider the offer of being a facilitator of the centre as Prof. Jokthan requested,'' Sibe said.
Log in to post comments
171 views