Murtala Usman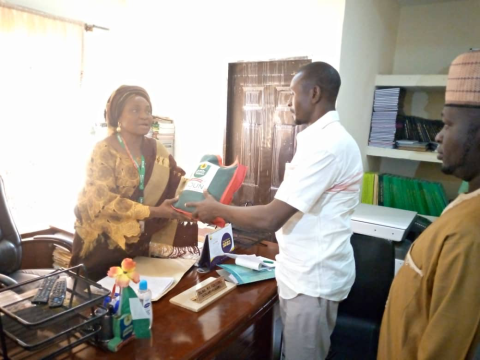 In an effort to ensure access to higher education for members of its community, Guyuk  Community from Guyuk Local Government Area of Adamawa state, has tabled a formal request for the establishment of a NOUN Community Study Centre in its domain.

This, according to them, will enable members of the community to easily acquire higher education which would make them to impact positively on their lives.

Executive Chairman of the local government's Transition Committee, Hon. Solomon Abrafas stated this when he led a team on a courtesy visit to the management of National Open University of Nigeria (NOUN), Yola Study Centre.

"We a have a serious challenge concerning education in my local government. As a young man, less than 40, knowing fully no community will develop if the population is not educated. If you are going to be a farmer, with good education you can excel. Anything you want to do in this life needs education.

"It's unfortunate to us that the entire local government is far behind. In fact, I say with all sense of sympathy to the local government, we have no one single boarding school. No any single higher institution around. I find it befitting to partner with the National Open University of Nigeria so that we can be able to take education to the close door of our people," Abrafas said.

The chairman added that the community has about 70% structures on ground and the local government council is ready to provide all necessary supports to ensure the smooth take off of the community study centre.

Abrafas, an educationist and desirous of providing higher education to his people, commended Yola Study Centre director, Mrs. Tiling Yelyel and her zealous staff for leaving no stone unturned towards stamping the name of NOUN of people's minds.

Responding, the centre director, Mrs. Tiling Yelyel, who represented the Vice-Chancellor, Prof. Olufemi Peters, thanked  the chairman for the request to establish a community study centre.

She said the mandate of the university is to take a higher education to every single doorstep of Nigerians.

Yelyel added that the university is ready to partner with any community that wants to establish a community study centre as long as the community meets up with the basic requirements.

The director explained the basic requirements and other details for the establishment of a community study centre, which, she said, if met will be forwarded to the management of the university for consideration.

She commended the chairman for coming out with the initiative, which, according to her, would greatly help in promoting higher education in the community.
Log in to post comments
269 views