By Mba Ude Ude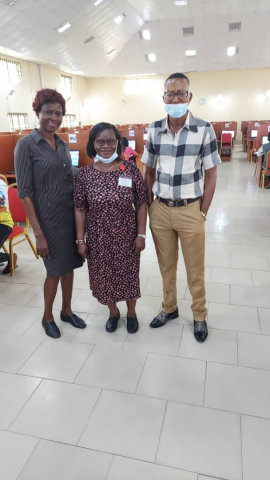 The director, Centre for Excellence in Migration and Global Studies, National Open University of Nigeria (NOUN), Associate Prof. Gloria Anetor, has said the administration and conduct of the on-going 2021_2  e-examination was impressive and fantastic.

Anetor disclosed this in a  chat with _NOUN News_ correspondent when she monitored the e - exam at Umudike Study Centre, Abia State.

According to Anetor, the edifice that housed the centre was beautiful, massive and spacious, even as she wished it belonged to NOUN, stressing that the  internet connectivity  at the centre was one of the best.

She observed that the sitting arrangements were physically distanced; wearing of face masks by both staff and students was appropriately complied with, while the centre director had deployed adequate number of invigilators in the e-exam halls.

The Health educator applauded the centre director, Prof. Chris Nnadi, for his leadership acumen and promotion of team work among his personnel, adding that the staff were cooperative, dutiful and supportive in ensuring seamless e-examination administration.

On her part, the Head of Department(HOD), Public Administration, Dr  Nwamaka P. Ibeme, described the conduct of 2021_2 e-exam at Owerri Study Centre, Imo State, as perfect.

Ibeme commended the centre director, Dr. Ettu  Theresa Ucheoma, and her team for proper coordination and running of activities, which according to Ibeme culminated in a hitch-free  e-examination.

While acknowledging the students orderliness and promptness in taking exam, Ibeme also maintained that the centre has recorded lots of improvements.
Log in to post comments
173 views