Tope Oyewole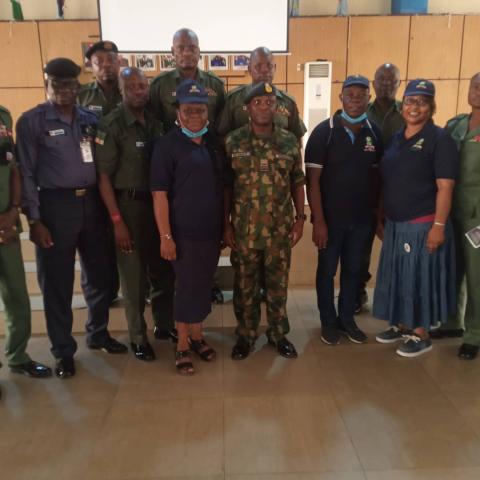 The special study centre of the National Open University of Nigeria (NOUN) for the Nigerian Navy, Apapa, has held a sensitization campaign at the passing out ceremony for discharged trainees at the Nigerian Armed Forces Resettlement Centre, Oshodi.

Present at the ceremony were the centre Director, Dr. (Mrs.) Inua, the Deputy Director, Mr Athanatius Onyeokoro, the Principal Assistant Registrar, Mrs Irene Idahosa and  Assistant Registrar, Mrs Ugochi Olivia Onyeneri.

The Principal Assistant Registrar, Mrs Christy Uzoukwu and Senior Assistant Registrar, Mrs Oluwaseun Odusanya of the Directorate of Entrepreneurship and General Studies, southwest incubation centre were also at the event to lend support to the Apapa study centre.

Mr Onyekoro who first addressed the Armed forces trainees explained that NOUN operates an open and distance learning (ODL) concept.
He described that the university has programmes that ensured the delivery of quality education through the employment of quality academic and non-academic support staff.

He also stated that with the establishment of study centres across the nation, the availability of course materials and online facilitation, NOUN is the most accessible and affordable higher institution in the country.

After his address, the Centre Director, Inua further clarified the areas of the competitive advantages of NOUN over conventional Universities.
She highlighted the flexibility, barrier-free, accessibility, affordability, as well as the fact that NOUN does not go on strike as some of the advantages.
She cited the covid pandemic as a case study, explaining that NOUN was in operation during the peak of the situation, the university attended to students' needs despite the virus outbreak. This is because of the ODL system it operates.

Furthermore, the Principal Assistant Registrar of the Directorate of Entrepreneurship and General Studies, Southwest incubation Centre, Mrs Christy Uzoukwu, informed the Armed forces that, NOUN did not just stop at having undergraduate, postgraduate and PhD. programmes but also offer entrepreneurship and employability skills to her students and have incubation centres across the six geopolitical zones of the country, where these skills are nurtured.
Uzoukwu explained how NOUN has projected the skills of her students, who through these projections have benefited from GRANTS that helped them to further advance their skillsets.

She referred to the Tony Elumelu Entrepreneurship Grants, and how students participated and won in nationwide competitions on entrepreneurial skills.

The Personnel, Squadron Leader, Israel Olusanya Faniyi was visibly wowed by the presentations, he asked questions and made enquiries on the programmes, the process of enrolment and other information from the flyers shared with them.

The visit was impactful, as evidenced by a large number of enquiries from the armed forces personnel.
Log in to post comments
107 views