By Inuwa Hamza Yunusa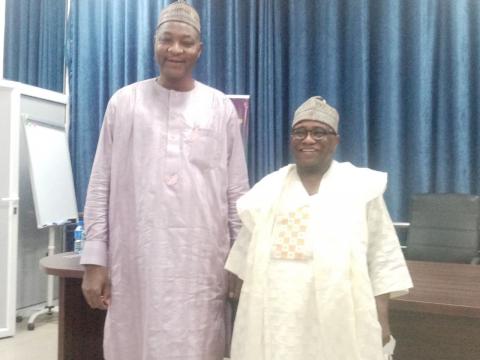 After a successful and historic commissioning of seventeen new study centres between Kano and Jigawa States, the Vice-Chancellor, Prof. Abdalla Uba Adamu, and his team on Tuesday paid a courtesy call on his Bayero University, Kano (BUK) counterpart in his office at the university's New Campus.
Receiving the team, the BUK VC, Prof. Sagir Adamu Abbas, who welcomed the team for finding out time to visit him despite the busy schedule in the state, extolled Prof. Adamu's scholarship exploits in the university.
He described the NOUN VC as a good academic colleague in the field of Science and Technical Education and beyond before he moved to Media and Cultural Studies.
"He told me that he is saturated in the field of Science Education. I initially thought he was joking but that was how he suddenly left Science Education after reaching its peak as a professor," the BUK boss recalled.
He maintained that there was nobody with many publications as his own at that time in the university.
While describing the reputation of the outgoing NOUN VC, Abbas stated that "if his name is mentioned in Kano, it rings bell because he has touched almost everywhere. So I am personally proud be associated with him."
He explained how he has learned a lot from the NOUN VC "because he is someone that always wants to chart a new course; he doesn't like repeating similar course in any academic arena."
The BUK VC added that Adamu has been a good ambassador of BUK and expressed the university's readiness to open a chapter of relationship with NOUN, especially as it has already gone miles ahead of any other institution in the virtual delivery of education.
Earlier in his speech, the outgoing NOUN VC, Prof. Abdalla Uba Adamu, expressed his unreserved pleasure for the warm reception even "in an unexpected courtesy call."
He explained that they were at the university to thank the BUK VC for granting Adamu a leave of absence to serve at the National Open University of Nigeria.
Adamu further presented what he referred to as a "dream team" who contributed immensely and ensured the success of his tenure, adding that NOUN is blessed with people who are intellectually versatile.
He described the BUK boss as a pillar of encouragement to which he has given to a lot of people the chance to progress.
On his part, the NOUN Registrar, Mr. Felix Edoka, described BUK VC as a replicate of Abdallah Uba Adamu, by staying up and meeting the visiting team late in his office.
He thanked the BUK Vice-Chancellor for his nod in allowing Prof. Adamu to serve at NOUN.
The NOUN Registrar informed him that the outgoing VC has immensely recorded successes at the university.
Log in to post comments
27 views