By Justina Undiandeye & Favour Egwu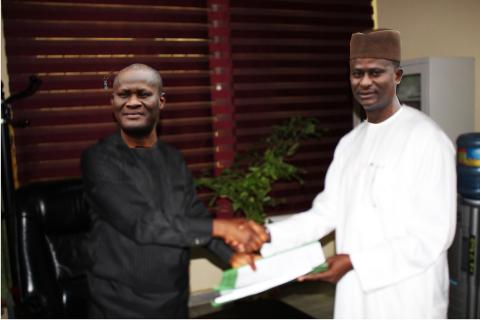 The outgoing Bursar of the National Open University of Nigeria (NOUN), Mr. Ernest Odeigah, has handed over the affairs to the newly appointed Bursar, Malam Nasiru Marafa at a brief ceremony held at the university headquarters in Abuja.
Odeigah, who saw off his 5-year tenure on September 17, 2022, expressed gratitude to the management of the institution for giving him the opportunity to offer his services.
He said in his hand-over speech that it has been a great opportunity to serve as the bursar and was glad that he left with mostly positive experiences throughout his tenure in the university.
The former bursar also extolled the university for fostering a healthy working environment where every staff could thrive and grow, adding that he was pleased with the great deal of experience he gained while serving as the bursar of NOUN.
Odeigah also commended his bursary staff for being reliable support system and the actual people who kept the bursary efficiently run, who, as a team, have achieved a lot by working hard to make sure that all staff complaints were resolved.
He urged them to cooperate with the new bursar and to take every task assigned to them seriously so that the culture of excellence would be maintained.
While thanking God for the opportunity to discharge his duties to the best of his ability, he also urged his successor to do well and even surpass him in achievements so that they all could leave a positive lasting legacy in the university.
In his response, the new bursar, Mr. Nasir Marafa, thanked his predecessor for leading the bursary in an efficient and effective manner and wished him well in all his future undertakings.
Log in to post comments
267 views