By Joel Nkanta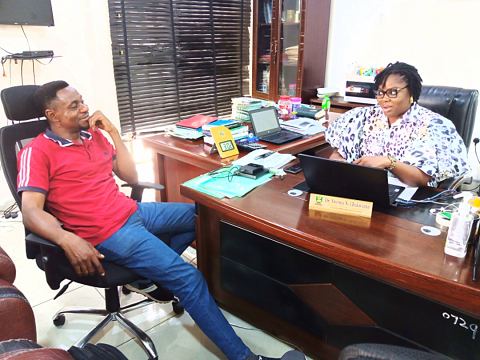 The Director, Port Harcourt Study Centre, National Open University of Nigeria (NOUN), Dr. Nnenna Nancy Chukwuma, has expressed her appreciation to the Vice-Chancellor, Prof. Olufemi Peters, for what she described as his interest in Port Harcourt Study Centre.
Chukwuma, who also appreciated the management of the university, made the assertion when she received the representative of the Directorate of Physical Development, Works and Services (DPDW&S), Mr. Tunde Odunayo, in her office on Tuesday, February 22, 2022.
The centre director, who said she was particularly worried about the physical state of the study centre when she assumed duty last September, could not conceal her excitement as she said she was very grateful to the vice-chancellor and management of the university for giving a facelift to her centre.
She observed that Rivers State remains one of the few big states that still boast of only one study centre in the country, while many others have up to five and six centres, adding that management's intervention in renovating and giving a facelift to the centre would go a long way to uplift the image of the university and commensurately trigger high students enrolment in the state.
Chukwuma enumerated her initial concerns when she assumed office to have included lack of connectivity of the centre to the public power supply for over a year, haphazard packing arrangement for students especially during examinations, leakages of the roof in virtually all the halls and offices in the centre building, as well as inadequate lighting and ventilation in the main auditorium.
She confirmed that all those challenges have been resolved and prayed the management of the university to extend the interlocking work to the frontage of the centre, on the main road, in order to discourage hawkers and ubiquitous vendors who have built kiosks and displayed their wares all over the stretch of that side of the study centre.
The director explained that extending the interlocked landscape to that side would not only enhance the aesthetic outlook of the centre but also create more room for packing of vehicles during major events like examinations, matriculations and seminars.
On his part, Odunayo, who said he was at the centre to inspect the renovation works, expressed satisfaction with the way the physical works were handled, saying that the re-roofing, landscaping as well as the installation of air-conditioners were done to specification.
Asked why nothing was done about some areas of the centre that were being threatened by erosion, he said that the centre needed to draw the attention of management to that issue but assured that the re-roofing just done would curtail the level of flooding that caused the erosion for the time being, till the drainage system of the centre was overhauled.  
Log in to post comments
54 views