By Inuwa Hamza Yunusa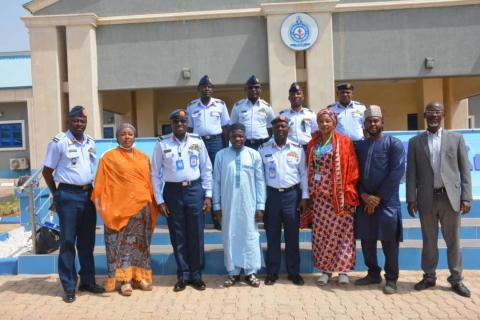 The Commander, Air Training Command of the Nigerian Air Force (NAF) Base Kaduna, Air Vice Marshall N. K. Kunzih has recently hosted the Director, Special Study Centre for the Nigerian Air Force, Kaduna, Prof. Nda Mundi and his team on a courtesy visit. 
Speaking during the visit, Prof.Mundi congratulated the 7th Commander of the Air Training Command on his new appointment as Air Officer Commanding (AOC). 
The director substantially highlighted the university's operation, the NAF Study Centre, its students capacity, structure and challenges. 
He further outlined the efforts made by the centre in seeking a lasting solution to some of the challenges presented to the past Air Officers Commanding. 
Moreover, Mundi emphasised on the need for more office structures as their inadequacy is seriously dwarfing some of the day-to-day activities in running the affairs of the centre most especially during the examination times.
He narrated that there were series of efforts with the past commanders and most importantly the immediate-past one,AVM A. O. Jolasimi. 
"The past commander has contributed in the facilitation of the proposed site plant at the Air Force Headquarters, Abuja," said Mundi. 
According to him, the immediate-past AOC has intimated him that the site plan has since been approved awaiting the Chief of Air Staff's assent. 
He appealed to the AOC to assist so as to fast-track the speedy commencement of the project. 
He thanked the AOC for his assurances and kind gesture on his intent to facilitate and follow-up so as to ensure speedy approval. 
In his address, the Air Training Commander, AVM. N. K. Kunzih, appreciated the visit. 
As an ex student of the institution, the AOC acknowledged the existence of NOUN as a fully accredited university. 
He further admitted knowing all what the study centre is going through and promised to consult with the Chief of Air Staff for a possible intervention. . 
As a stakeholder in education sector, he pledged for more partnerships and support so as to uplift the standard of the education in the country.
Log in to post comments
102 views