Emmanuella Aliobu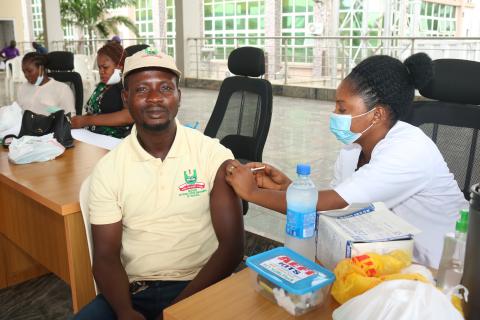 As the second dose of the Covid-19 vaccination in the National Open University of Nigeria (NOUN) successfully climaxed at the university headquarters in Abuja on July 2, 2021, the Head of University Clinic, Dr. Hassan Sule has disclosed that there has not been any serious complaint from members of staff who took the jab.
Sule stated this in a brief chat with NOUN News during the second dose of Covid-19 vaccination exercise at the convocation Arena, University headquarters, Jabi, Abuja.
"We've not received any serious complaints other than slight complains of people feeling a bit ill after taking the first Jab, but nothing serious happened; nobody fainted, nobody has blind fog, among others," he stated.
According to Sule, the whole idea behind the vaccination was "to prime our body so that whenever the disease happens again, our body will be able to deal with it."
In a quick response on issuance of certificate at the end of vaccination exercise, Sule disclosed that everybody's information is uploaded to his/her profile, adding that the vaccinated person can check their vaccination status by putting their phone camera on Quick Response (QR) Code leading to a link which will take them to the website. This will be done after the seven days of taking the vaccine.
Some staff, who took the first and the second jab of AstraZeneca vaccine, while reacting to the exercise at the university, said they only experienced minor issues, urging people not entertain any fear regarding Covid-19 vaccine.
It would be recalled that the first dose of the vaccine was made available to NOUN from 24th through 26th of May 2021, while the second dose of the vaccine took place on the 1st and 2nd of July, 2021.
Log in to post comments
187 views