Murtala Usman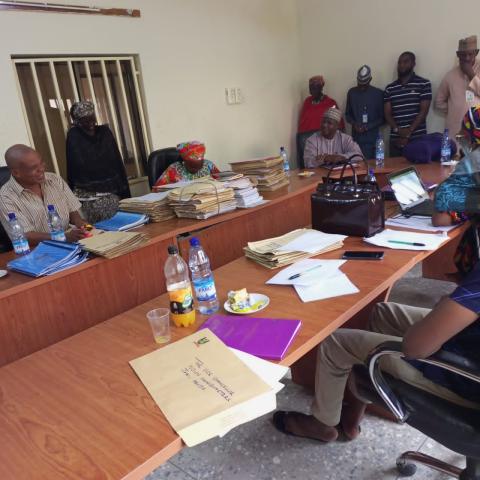 The Directorate of Academic Planning (DAP), National Open University of Nigeria (NOUN), on Tuesday July 19th 2022, led a high-powered delegation to Yola Study Centre of National Open University of Nigeria (NOUN) to assess available facilities and the level of preparedness of the Centre ahead of the visit of the National Universities Commission (NUC) for accreditation exercise.

The team, which was led by Prof. Mercy Bandele, the director, Quality Assurance Unit of the university, explained that they were at centre to  check the level of preparedness and readiness of the  centre ahead of the visit of the NUC accreditation team.

The team was impressed with the performance of the centre director and members of staff who were advised to work as a family if NUC decided to visit the centre

The team during the inspection observed some lapses and offered recommendations  for improvement in some areas and advised the management of the centre to fix and procure what was lacking as if the  NUC was coming tomorrow.

The centre director, Mrs. Tiling Marling Yelyel thanked the team for the visit and the useful information given and also expressed her delight for the insight on what is expected of the centre staff and promised to work hard to meet up .
The director also thanked the staff members for their cooperation and support as she appealed to them to put in their best to justify the efforts of the vice-chancelor towards the NUC accreditation visit

Among assets/facilities inspected were the store for course materials, staff offices, auditorium, library,  fire extinguisher, and other  physical facilities at the centre.

The team also inspected academic and administrative records and  interacted with management of the centre on issues regarding imprest  and facilitation

Other members of the inspection team were Prof. Abubakar Garba Suleiman, Head, Department. of Human Kinetics and Health Education, NOUN, Dr. Ailakhu, Ugonna Vivian,
Head, Department. of Library and Information Science, Dr.Olufunke Osikomaiye, Head, Department of Arts and Social Sciences Education, Dr Marcellinus C. Anaekwe HOD, Science Education, Lawal Kamaladeen Maccido Directorate of Academic Planning and Prof Usuji, U. S. A, Dean, Faculty of Education
Log in to post comments
143 views