By Inuwa Hamza Yunusa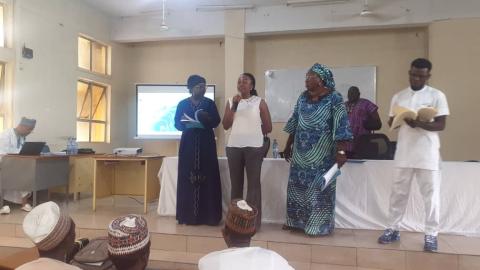 The Dean, Faculty of Health Sciences Prof. Shehu Usman Adamu, has said that students' practicum is a special hands-on training for the public health interest.
He stated this in an interview with NOUN News shortly after presiding over the practicum defence exercise for the students of master's programme in public health in Kaduna.
Adamu explained that the compulsory 8-week exercise was aimed at equipping the students with the first-hand practical experience in their various areas of interest.
Speaking on the defence, the dean highlighted that it's an avenue through which the students display the amount of exposure and critical understanding of the public health interest of the organisation one relates with.
During the defence, "students were grouped and engaged  in organisations like Kaduna Sanitation Agency, Primary Health Care, Leprosy Centre, Vaccines and Immunisation Centre. 
After the mandatory practicum experience, a student is expected to write a report on his/her findings and present to the relevant authorities for defence" the dean explained. 
He noted that the exercise enriches students with the knowledge learned from the public health of the organisation. 
"The knowledge shared during the report presentation and defence among groups allows individual group members to learn from other areas of their colleagues. 
"The practicum is significant to the university because it further expose the university standard and the kind of students it produces and gives wider coverage. 
"We receive feedback that students of NOUN are hard-working from various organisations and across the country," said Adamu. 
He, therefore, urged the university management to encourage such exercises through monitoring and efficient practicum supervision and the report presentation defence. 
Log in to post comments
102 views