By Debbie Nduba and Sunday Adama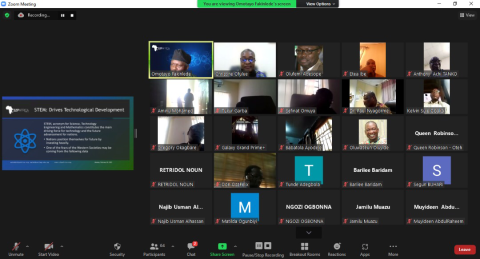 Sequel to several problems militating against the production of quality graduates  in Science, Technology, Engineering and Mathematics (STEM) and at the appropriate standard in Nigeria, a MASC platform has been introduced to nip the challenges in the bud.
A professor of Systems Engineering, University of Lagos (UNILAG), Prof. O. A Fakinlede, disclosed this at the Regional Training & Research Institute for Distance and Open Learning's (RETRIDOL), February edition of its ODL monthly discourse on Monday, February 28, 2022.
Speaking on the topic: "An Innovative STEM Testing & Evaluation System: The MASC Platform," Fakinlede said via a zoom presentation that STEM constitutes the main driving force for technology and the future advancement for nations.
According to him, the challenges facing STEM includes: low entry standards, overstretched facilities and inadequate equipping, calendar instability and course completion issues, students feedbacks as well as stressed instructors, among others.
Speaking on the benefits inherent in the platform, the erudite professor revealed that "the fundamental strategy of MASC is that it is built on a well-defined instructional platform consisting of lectures notes, teaching slides, videos, and a well-resourced database that apps on student's client devises can rely on.
"The dual mode instructional system allows for face-to-face classroom teaching as well as on-line teaching. These make it possible for students to use the apps even when they are not in the same university where the teaching is taking place.
"They also make the Distance Learning Institutions good clients for such a system. Calendar instability is solved by the fact that classes go on-line in response to strikes and pandemics. The same continues seamlessly when there is resumption in regular student-lecturer interactions. This also provides the solution for course completion problems."
On the benefits of MASC, he said the most innovative thing about MASC is that testing does not have to be initiated by the lecturer, adding that tests can be initiated as class test, mid-term or regular class tests.
Students, Fakinlede said, can also initiate tests by themselves. Such tests are recorded and can be used by students or instructors to monitor progress.
He added that graduate students can now be compelled to meet undergraduate requirements beyond showing they previously passed the requisite course.
"MASC strategy is to rely on the self tests rather than textbook practices to measure mastery. Requires that all problems given are solved in full and constitute a reference platform for referral when students miss specific problems on the MASC Self-Test.
"MASC is available on computers, laptops, tablets and smartphones. One server is on the Internet and therefore reachable once a student has browsing capability," he said. 
MASC is a data goldmine for several aspects of students' measurements, the don stated.
On her part, the director of RETRIDOL, Prof. Christine Ofulue, said the monthly discourse is designed for sharing ideas, research findings and having conversations that have to do with ODL including e-learning for development and sustainability.
RETRIDOL is an international institute established in 2003 based on partnership between NOUN and COL with a primary mandate to build capacity of higher education institutions for ODL and foster regional activities and participation in the provision of quality distance learning in the West African sub-region and beyond, she said.     
Log in to post comments
114 views