By Inuwa Hamza Yunusa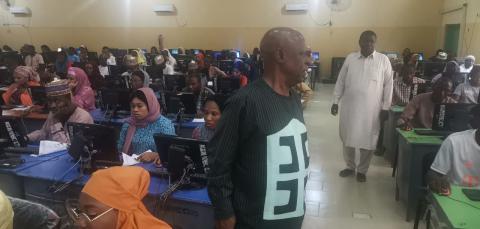 The Director, Olusegun Obasanjo Centre for African Studies, Professor Eserinune M. Mojaye has, on Tuesday, May 31, 2022, monitored the conduct of the ongoing 2022_1 e-examination at Kano Study Centre.
Mojaye commended the centre for its composure and orderliness in discharging its mandate. 
Moreover, he applauded the centre director, Mr. Muddasir Ahmad Ishaq,for his ability to use the available resources at his disposal to ensure the success of the examination at the centre.
Dwelling on the centre's staffers, Mojaye urged them to continue the good work and uphold the spirit of team work they have shown when ever they were faced with any task. 
Responding, the centre director, Mr. Muddasir Ahmad Ishaq, assured the university management that Kano Study Centre is committed to putting the goals of the university as the topmost priority. 
He explained that all efforts of the centre were geared towards attaining the goals of the Vice-Chancellor, Professor Olufemi Peters, which pertain to raising the enrollment level of the university to a greater height and to also take education to the nooks and crannies of the country.
The Mass Communication HOD had also engaged in a similar exercise at Fagge Community Study Centre, Kano State.
Log in to post comments
153 views