By Joel Nkanta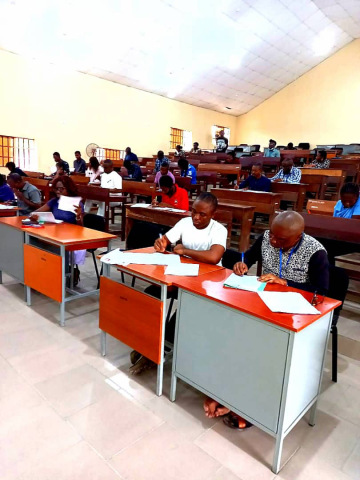 The Spring Edition of the Pen-on-paper (PoP) examinations of the National Open University of Nigeria (NOUN) commenced in the morning of Tuesday, April 19, 2022, at all 13 study centres of the South-south geopolitical zone of Nigeria with pockets of hitches recorded at take off.

At Port Harcourt Study Centre, the exams took off virtually seamlessly except for one of the 400 Level English questions that were not available. Exams commenced as scheduled at the centre in a perfectly orderly manner.

However, exams could not commence as scheduled at the Special Study Centre for the Nigerian Correctional Services, Port Harcourt. The delay in the take off of exams at the correctional centre may not have been unconnected with the recent attempted jailbreak at that facility.

The centre director, Port Harcourt Study Centre, Dr. Nnenna Chukwuma, who monitored development at the Special Study Centre, was told that the invigilators sent from Port Harcourt Study Centre to administer the exams could not access the facility "until the deputy comptroller (DC) would personal open the facility and grant access to them." As the DC was not readily available that early to facilitate the entry of the NOUN personnel, they had to wait till the officer arrived.

Chukwuma explained that unlike it used to be before the recent unrest at the facility, when her staff were allowed easy access to the facility to carry out their assignments at the special centre, she had to write a letter to the DC, requesting his permission and cooperation to enable NOUN personnel access the facility for the examinations.

At Calabar, Ikom, Owhrode, Sapele, Emevor and Fugar study centres, the commencement of the exams was totally hitch free and smooth. At Asaba Study Centre, initial difficulty was reported in downloading and printing of the exams questions. The challenge, according to the centre director, Prof. Chibuogwu Nnaka, was apparently caused by bad weather. The issue was eventually resolved but exams questions for ENR 302 and BIO 413 were not available in the system.

The most worrisome challenge was recorded at Uromi Community Study Centre, Uromi, Edo State. In a chat with NOUN correspondent, the director, Uromi Community Study Centre, Dr. Oluyemi Ogundiwin, revealed that no single exams question was received for candidates at the study centre as of the time of filing this report.

Ogundiwin said that the few questions that came were for courses not offered by students at his centre.

Uyo, Yenagoa and Benin could not be reached at the time of this report. While the telephone lines of the directors of Uyo and Benin, Professors Okonkwo and Adewale respectively, could not connect, that of the director, Yenagoa Study Centre, Prof. Clifford Amini, rang out without response.
Log in to post comments
148 views