By Sunday Adama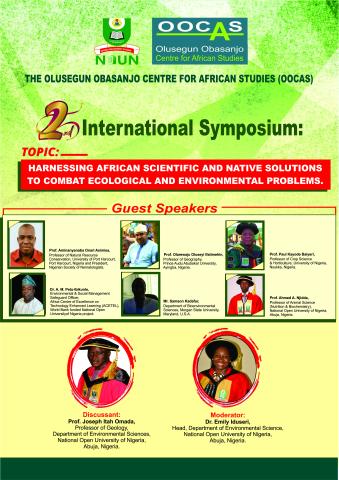 Sequel to the rampant ecological and environmental problems confronting Nigeria, experts from across the country have advocated synergy between traditional, scientific approach and policy makers towards mitigating the ecological and environmental problems facing the country.
They proffered this solution on Thursday, August 3, 2023  while presenting papers at a virtual 2nd International Symposium organised by the Olusegun Obasanjo Centre for African Studies (OOCAS), National Open University of Nigeria (NOUN), Jabi, Abuja.
The symposium, moderated by the Head of Department (HOD), Environmental Sciences, Faculty of Sciences of the university, Dr. Emily Iduseri, had the following as the guest speakers: Professor of Natural Resource Conservation, University of Port Harcourt who is also the President, Nigerian Society of Nematologists, Aminanyanaba Onari Asimiea and Professor of Crop Science & Horticulture, Department of Crop Science, University of Nigeria, Nnsukka, Paul Kayode Baiyeri.
Others were: Professor of Geography, Prince Audu Abubakar University (PAAU), Ayingba, Olarewaju Oluseyi Ifatimehin; Professor of Animal Science (Nutrition & Biochemistry), National Open University of Nigeria (NOUN),  Ahmed A. Njidda and a don with the Department of Bioenvironmental Science, Faculty of Sciences, Morgan State University, Baltimore, Maryland, USA, Mr. Samson Kadafur.
Also, present was the Environmental & Social Management Safeguard Officer, the World Bank-funded Africa Centre of Excellence on Technology Enhanced Learning (ACETEL),  National Open University of Nigeria project, Dr. Abiona Michael Petu-Ibikunle while Professor of Geology, Department of Environmental Sciences, National Open University of Nigeria (NOUN), Joseph Itah Omada, served as the  discussant.
While declaring the symposium open, the Vice Chancellor, National Open University of Nigeria(NOUN) and Chief Host, Prof. Olufemi Peters thanked the guest speakers and participants for attending the symposium themed:"Harnessing African Scientific and Native Solutions to Combat Ecological and Environmental Problems."Peters, while expressing hope in the ability of the guest speakers to do justice to the topic, described it as a "fantastic title coming at this particular tag of the ecological season in Nigeria and indeed the world.
"And you will agree with me that the ecological and environmental challenges we have in the world are both natural and man-made and this topic of harnessing scientific and native solutions to it is something that is extremely important."
The Vice-Chancellor thanked the Director, Olusegun Obasanjo Centre for African Studies (OOCAS), Prof. Eserinune McCarthy Mojaye for organising the symposium.
Mojaye, in his welcome address, said: "Today, we shall not only examine the numerous ecological and environmental problems confronting Nigeria as a nation but we shall as well proffer workable solutions to these problems. We believe that there is no problem without a solution.
"Nigeria is, indeed, plagued with many ecological and environmental problems. In the North-East and North-West, the country is faced with desertification; in North-Central, it is the problem associated with mining of solid minerals; in the South-East, it is erosion; in the South-West, it is deforestation; while in the South-South, it is the problem of oil and gas pollution. Common to all the zones, is the problem of non-degradable urban waste.
The ecological and environmental problems in Nigeria, according to the array of  experts at the symposium include,  deforestation, desertification, wildlife poaching, water scarcity, and climate change impacts, among others.
They added that harnessing scientific and native solutions lead to a more comprehensive and inclusive approach to environmental management, balancing scientific insights with traditional wisdom.
This, according to them, requires collaboration among policy-makers, researchers, local communities, and civil society to ensure a collective commitment to building a sustainable and culturally respectful future.
Log in to post comments
78 views