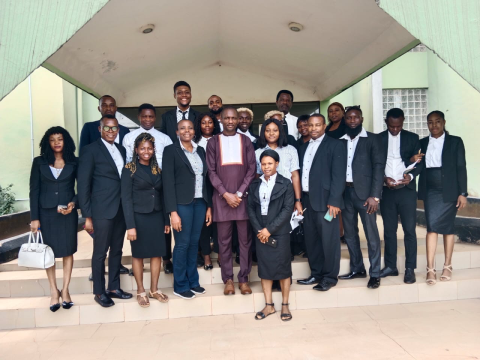 The Faculty of Law, National Open University of Nigeria (NOUN), has organised a Moot Court competition for all the university's Law student's across the federation.
The graduates were expected to take part in this competition as it is a compulsory criteria for admission into the Nigeria Law School.
Dean, Faculty of Law, Dr. Ernest Ugbejeh, in a chat with NOUN News correspondent, said staff from the faculty were sent to guide and direct the proceedings of the competition at the various geo-political zones of the country.
Explaining the concept of the Moot Court, he said it is a mini court setting where undergraduate law students are introduced to the practice of Law.
"It is a mini court-setting where all our Law students are grouped into four different chambers, all our students belong to a chamber.
"The Moot Court is where they bring students and students are prosecuted for breach of some codes, for instance, dress code and other things. We have judges and they are all students; they sit and hear matters from these various chambers we are talking about," he said.
According to him, after judgement at the Moot Court, any law student found guilty of breaching a code, such a student will be asked to pay fine and his name will be forwarded to the faculty.
"The name of such person will be forwarded to the faculty because if he fails to comply with the judgement, he can never be recommended to the Nigeria Law School. So it's that serious and that is one aspect that underscores the importance of mooting or moot court competition," the dean said. 
Ugbejeh further stated that the trainings of Law students at the undergraduate level is  mainly focused on substantive Law,  students   only experience the procedural aspect in their undergraduate level through the Moot Court.
Speaking about the NOUN law graduate awards ceremony held recently, he commended the effort of graduates who recently concluded their Law School Remedial Programme for recognizing the role and appreciating those who contributed towards the realisation of their admission into the school.
He said the award serves the purpose of acknowledging and motivating those who contributed to the admission of NOUN Law graduates into law school.
"Those who saw to the admission of the first batch, the second batch that we are pushing now, the support of those people will also be needed to ensure NOUN Law graduates are admitted into law school," he added.
Log in to post comments
260 views