By Ikechukwu Onyekwe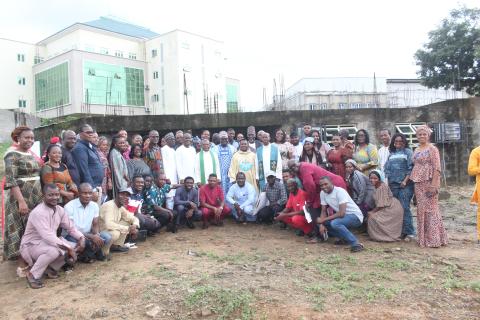 More than hundred and twenty worshipers comprising of the families,
friends, and members of the NOUN Catholic Community have defied a heavy rain to attend a Thanksgiving Mass organised to mark the successful tenure completion of the Registrar, Bursar and the Director, Physical Planning, Works and Services of the National Open University of Nigeria (NOUN).
The trio, Mr. Felix Edoka, Dr. Ernest Odeigha and Mr. Smart Abulu, have all graced the mass at the university headquarters in Abuja.

The mass, held on Friday, September 2, 2022 came soon after the outgoing Registrar, Sir Felix Edoka, handed over to his successor, Mr. Oladipo Ajayi and was organised by Our Lady Seat of Wisdom Catholic Chaplaincy of the university.
During the sermon, Reverend Father Emmanuel Ameh said it was imperative to thank God for a mission accomplished in the service of humanity.
"They had their moments of challenges, moments they needed to prove their authorities. There were also times they needed to be accommodating to people even when those people's philosophies and ideologies differ completely from theirs. These are some of the challenges in leadership," he said.
Ameh also thanked them for their contributions and sacrifices in the
worshipping community and assured them and the university community of their prayers and support.
The high points of the thanksgiving mass were the award of the
spiritual bouquet which was done in between the mass for all the three
recipients and also a thanksgiving procession of the recipients
accompanied by their friends, families and colleagues.
The immediate-past, who spoke on behalf of other recipients, thanked the Chaplaincy for all the felicitations awarded to them, assuring the chaplaincy of their continued support and urged the Chaplaincy to keep up the prayers for the entire university community.
At the end of the event, NOUN News had a chat with the Chaplain of the Chaplaincy, Rev. Father Mike Okoronkwo, who said that "We are not sending them off but rather we are appreciating them. NOUN may still engage them in different services. The outgoing registrar and bursar do not seem to be retiring unless they decide on their own to go on voluntary retirement.
"So they are still part and parcel of us. That is why we chose to celebrate their end of tenure in office, and that is exactly what we are thanking God for."
Log in to post comments
33 views