Murtala Usman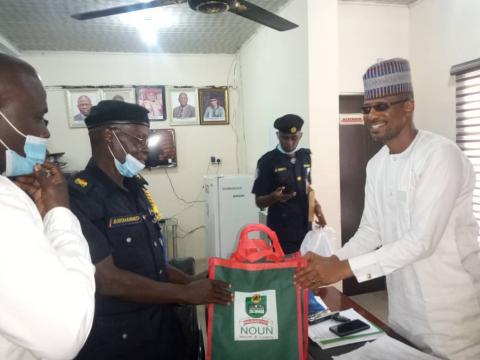 The Director, Gombe Study Centre, Dr. Adamu Bappah, on Friday, 20th August, 2021, received a delegation from the Federal Fire Service, Gombe State Command, led by the CSF Yunusa Usman.
The aim of the visit, according to CSF Usman, was to inspect the building to ensure that it complies with the mandate of the fire service acts.
He said the visit was to also identify fire service point (muster point) and to ensure that the study centre adheres to the safety emergency procedures among others.
In his response, the centre director appreciated the Federal Fire Service leadership for the visit, noting that the gesture has confirmed the fact that they are serious in ensuring prescription and monitoring of standards for the promotion of fire education/enlightenment in public buildings.
Bappah assured them that all their suggestions have been noted and will work towards ensuring that fire safety procedures are adhered to strictly.
The director, later, took the delegation for monitoring and inspection of the physical structures at the centre.
Log in to post comments
58 views