By Inuwa Hamza Yunusa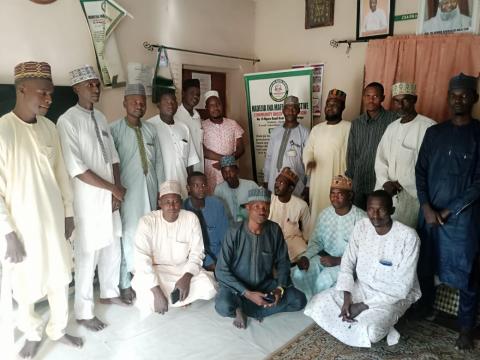 The advocacy team of the Hadejia Community Study Centre, Jigawa State, has visited the community secretariat of a Social Development Club that focuses on proffering solutions to the socio-economic development issues in Hadejia Local Government Area. 
The centre representative Mr. Atiku Sani Ringim, in a discussion with NOUN News correspondent, stated that the team visited the club in order to build on the existing relationship with the centre in the area of awareness and to seek for their intervention in some areas of concern. 
Ringim said the centre had considered "Hadeja Ina Mafita Club" as integral in trying to reach out to the larger populace of the community due to its grass-roots activities. 
He thanked the club for granting the team audience in order to intimate them on the need for the two parties to collaborate. 
Speaking during the visit, Ringim explained the benefits of study at NOUN which lay untapped and expressed the need for the good people of Hadejia to tap them. 
He added that NOUN is the the university of the moment that allows one to learn at his own pace.
The centre representative, however, outlined some major issues that confront the existence of the study centre, which include the lack of fence that makes it vulnerable. 
He, therefore, called for the intervention of the club as an integral partner to the existence of the community study centre. 
Responding, the Chairman of the club, Mr. Baidu GajoYan Leman, represented by his deputy, Mr. Hussaini Shehu, thanked the centre's management for identifying with their relevance in an effort to take the centre to greater heights. 
The chairman promised to intervene in the fencing of the entire study centre building, assuring also to collaborate with the community stakeholders for students' sponsorship and scholarships. 
On the issue of advocacy campaign, Yan Leman promised to collaborate with the management of Hadejia Community Study Centre for massive advocacy campaigns within and outside the environs.
Log in to post comments
71 views