Tope Oyewole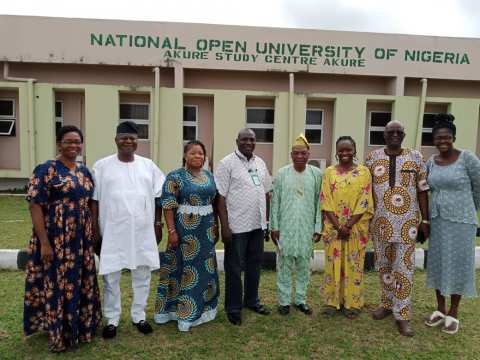 Oba Afunbiowo estate community hosting Akure study centre of the National Open University of Nigeria (NOUN) on Friday 2nd, July, 2021, paid a familiarity visit to the Centre Director, Prof. Samuel Ogunwale Ogundiran and members of staff.
The team was led by a prominent community leader, High Chief Omotayo Ejemikin of Akure, and was accompanied by Bar (Dr) Olipede Dare Ezekiel and Mr Olujobi, among others.
The community representatives expressed profound gratitude to the National Open University of Nigeria (NOUN) for their efforts towards educational development across the nation especially in their community.
They confirmed that NOUN is a reputable institution of higher learning that has over the years brought the acquisition of knowledge closer to the people in the grassroots which no other university in the country has been able to achieve that.
Speaking on the presence of the Akure study centre in the community, the representatives promised to support the centre in whatever way they can to make their job of providing quality education of international standard easy and smooth.
Addressing the visitors, the Centre Director seized the opportunity to shed more light on the vision and mission of NOUN.
He also highlighted the various programs offered that would be of immense benefit to residents of the community, and also explained the system of operation of the university to the community representatives.
Ogundiran thanked the team and promised that the University would do its best to provide accessible education to residents/indigenes of the community.
Log in to post comments
196 views