Emmanuella Aliobu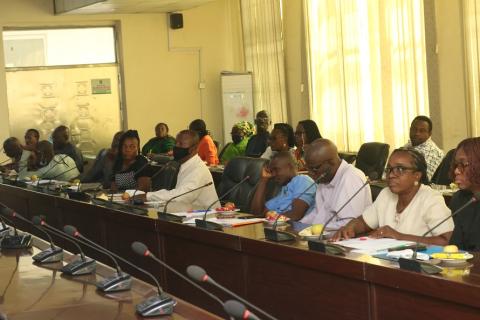 The Pro-chancellor, National Open University of Nigeria (NOUN), Prof. Peter Okebukola, has charged academic staff of the university on the importance of knowing the structure and development of multiple-choice test items using guidelines for constructing multiple-choice items.
He said this during a meeting with the HODs, HOUs and course coordinators of academic programmes on the procedure of setting TMA/POP Examination, which took place on Thursday, 27 January 2022 at NOUN headquarters.
Okebukola, who explained during the meeting organised by the Directorate of Quality Assurance via zoom that the golden rules for constructing multiple-choice items include arranging options vertically, not horizontally.
He warned them against testing many things in one question, saying that "All words and phrases that are common to all the options should be moved to the stem. Make the first few multiple choice questions relatively quick and easy. Do not attach more than two questions to diagram," among many other guidelines.
On her part, host director, Prof. Mercy Ogunsola-Bandele disclosed that "it has become necessary to take a look at what we have been doing wrong and the way forward.
"With the setting of the TMAs and examination at the corner, it might be wise to start with the process we have as a place for setting our examinations/TMAs, including the e-exams."
The director further explained different procedures for setting Tutor-Marked Assignment (TMA) and Pen- on-Paper (POP) examinations.
Ogunsola-Bandele appealed to all Head of Departments, Head of Units and course coordinators of academic programmes to work together to ensure quality in our processes within the system.
She said the major areas of concerns that came out during the last accreditation exercise was in admission, exam/TMAs, project supervisors, seminars and course materials.
Log in to post comments
220 views