By Sunday Adama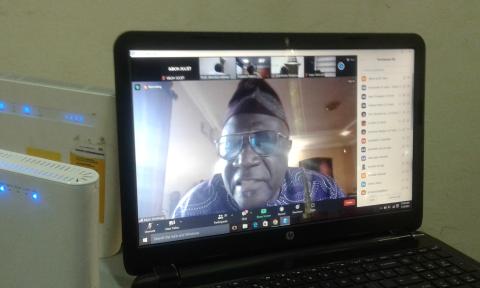 Seasoned academicians and professionals in Africa have warned that urgent actions by relevant authorities in all spares of life are needed against the spread of fake news, misinformation and disinformation in order to avoid further damage to the fabrics of societies.
They stated this on Thursday, July 13, 2023  while presenting various papers at a 1st International Symposium organised virtually by the Olusegun Obasanjo Centre for African Studies (OOCAS), National Open University of Nigeria (NOUN), Jabi, Abuja.
The symposium, moderated by the Deputy Dean, School of Postgraduate Studies, Baze University, Abuja, Prof. Abiodun Adeniyi, had the following as guest speakers: Former Managing Director/Chief Executive of News Agency  of Nigeria (NAN), Mr. Adebayo Onanuga; Head, Department of Human Resource Development,  Karatina University, Kenya, Prof. Juliet Wambui Macharia and former Director-General, National Broadcasting Commission (NBC) and Commissioner for Information, Sokoto State, Dr. Nasir Danladi Bako.
Others were: Media Law, Speechwriting and Public Speaking expert at the University of Botswana and Managing Director, Optimum Answers Invetment Pty Ltd, Dr. Letshwiti Batihalefi Tutwane;  former Minister of Information in Sierra Leone, Prof. Cecil Blake among numerous participants across Africa.
While declaring the symposium open, the Vice-Chancellor of the National Open University of Nigeria (NOUN), Prof. Olufemi Peters, thanked the guests and participants for accepting to be part of the event themed: "Harnessing African Solutions to Combat Fake News, Misinformation and Disinformation."
Peters added that "to share your intellect and experiences on a topical issues ravaging the world and causing so much indeterminate social upheavals and, perhaps,  through your vast experiences and professionalism,  seek alternate mitigating solutions.
"Fake News, disinformation, misinformation are children of the same mother, malinformation, brought about to deceive and confuse the world. In their relative forms, they are all false narratives that are pushed out into the public space and promoted as if there were true."
While pointing finger at the social media platforms as major purveyors of fake news across the globe, the VC said: "There has been varying attempts at curbing the menace. And I am sure many would be proffered today."
He thanked the OOCAS director, Prof. Eserinune McCarthy Mojaye, for organising the symposium hoping that it "marks the beginning of many intellectual discourse relevant to our socio-political landscape, which seek alternative views and solutions to socio-political issues that confront Africa nay Nigeria."
Earliar in his welcome address, Mojaye thanked the guest speakers and participants for accepting the centres' invitation to attend the symposium.
Going down memory lane, the director said OOCAS was birthed to address challenges facing Africa as a continent, adding that the symposium will "not only  examine the issue of fake news, misinformation and disinformation but also proffer solutions to these menacing monster.
"The fiendish demon called Fake News has not only refused to go away, but it has gone ahead to give birth to more ferocious, malicious and devastating children called misinformation,  disinformation and malinformation."
He, therefore, assured that as a centre, they will "not relent in our efforts to find solutions to these  monsters that are threatening not only the foundation of our societies but also the foundation of humanity and of our existence. This is why we have gathered today, the cream of experts and professionals in the communication sector, to analyse and proffer solutions to these problems."
The guest speakers, while sharing their perspectives on the issue of fake news, unanimously fingered the social media and internet as the purveyors of fake news, adding that fake news is "a real pain,  a bitter pill to swallow and it is  no respecter of persons or nations.
Log in to post comments
46 views