By Inuwa Hamza Yunusa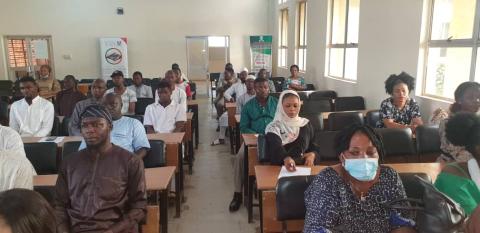 New students of the National Open University of Nigeria (NOUN) from the Kaduna Study Centre, on Friday, 22 October, 2021, have undergone an orientation exercise aimed at acquainting them with the university's rudiments and operation.
Director, Kaduna Study Centre, Dr. Aminu Umar, in his opening remarks at the exercise, informed the fresh students that the university, under the leadership of its Vice-Chancellor, Prof. Olufemi Peters, has added some dimensions to the process of learning.
Umar said e-learning platforms, where students can log-in and download all the videos of lectures in every course a student registers, have been introduced.
He added that online classes /lectures are now available for students to interact and discuss with their respective course tutors, where questions are entertained by course facilitators and make possible responses. 
The director tasked the students to become conversant with the university's anthem as it is being expected to be the first thing to know. 
He maintained that the university is fast transforming and becoming one of the leading Open and Distance Learning (ODL) universities in the world. 
NOUN, he stated, is a university with a difference which is guided by the revolution of Information and Communication Technology.
Umar explained that NOUN is the university of the moment as the method of learning adopted by the conventional universities that allow face-to-face interactions are beginning to disappear by the evolution of ODL system of education. 
Speaking on the university's course materials, the director said the materials are available online and in hard and soft copies and are user friendly, self-explanatory developed by experts across the nation's academic milieu. 
The director urged the students to be focus on registration and documentation, which is a vital part of becoming a bona-fide student. 
He warned them to avoid TMA manipulation at the business centers, saying the university has developed a software to dictate that heinous act. 
While cautioning them against any form of examination malpractice, he said "The centre has a bad reputation of reporting examination misconduct but has a good reputation of producing good students."
Highlights of the exercise were a presentation on "Registration /Screening and Documentation," by the Principal Assistant Registrar of the centre, Mrs. Jagila Bitiyong, as well as presentations on "Payment and Fees," "E-courseware and Access to Library," "Access and Log-in Process and NOUN Portal," by the representatives of Bursar, Mrs. Victoria Ochogwu, University Librarian, Hassana Ibrahim and Head of ICT Unit, Mr. Ahmad Musa Pumta, respectively.
Log in to post comments
115 views