By Inuwa Hamza Yunusa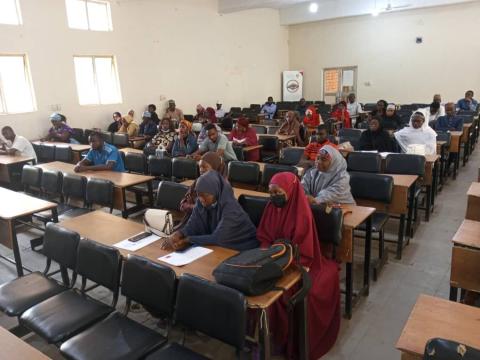 The Kaduna Study Centre has on April 14, 2022 held an orientation exercise for the newly matriculated students of the centre.
The centre director, Mr. Yusuf Abdullahi, congratulated the newly matriculated students at the centre and further extended the felicitation of the Vice-Chancellor, Prof. Olufemi Peters.
He appealed to the students to put more emphasis on their education since that was the reason for joining the university. 
He added that education is the bedrock of every country's economic and political development. 
The director also warned the students to desist from all forms of misconducts in the school and outside the school as they are the ambassadors of the university. 
Abdullahi added that their character, attitudes and conduct will henceforth reflect that of the university. 
He informed them that the National Open University of Nigeria graduates only disciplined and dedicated students. 
The director, therefore, urged them to listen very carefully so as to understand the process in going about with their academic journey in NOUN. 
Areas such as courses and programmes that are practical in nature, seminar presentation, internship, and projects were substantially explained and as they were urged to frequent visiting their respective Faculty Officers for more explanation on grey areas. 
The students were also taught on the fees, payment registration procedures, e-wallet and activities, remita generation and how to check breakdown of all payments. 
Issuance of course materials requirement and procedure of the collection were equally highlighted. 
The students were further educated on the library and its resources, importance and its relevance, even as online facilitation as well as  Tutor Marked Assignment were demonstrated.
Log in to post comments
71 views