Tope Oyewole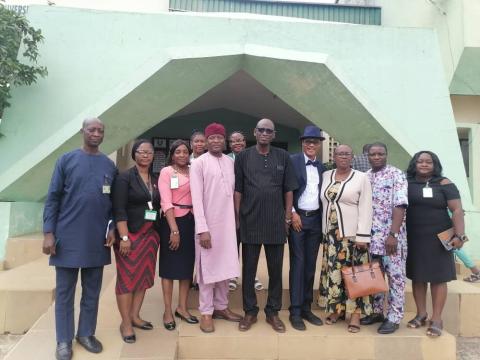 The accreditation team of the Faculty of Sciences, National Open University of Nigeria (NOUN), has carried out separate mock exercises in Lagos and Abeokuta Study Centres, which commenced on  Monday, August 29, 2023.

The team for science practicals, was led by the Director, Directorate of Academic Planning, Prof. Godwin Akper, alongside the Dean, Faculty of Sciences, Prof. Kolawole Lawal and other team members, who arrived at the centres on the assessment for the upcoming National Universities Commission (NUC) accreditation exercise.
They were there to test-run the level of preparedness of the centres in hosting the actual accreditation, scheduled between October - November 2023.

In Lagos, Akper briefed the centre director and other concerned staff about the necessary preparations needed as students' academic records, science practical files, project records files, and study materials must all be kept intact.

The team also assessed the councillors' activities, staff records, and the centre's facilities.

At the Abeokuta centre, Akper, alongside Mrs. Sefinat Omuya, Ag. Director, Learner Support Services, Dr. Sarumi, HOD Linguistics, Foreign & Nigeria Languages, and Dr. Amao were on there for the assessment of B.A. Yoruba programme.

The team was received by the centre director, Oba-Adenuga Olusegun Adeleke, and members of staff of Abeokuta Study Centre.

Akper made it known that the exercise would be carried out on the level of preparedness and readiness of the programme towards hosting the forthcoming NUC accreditation team.

The team ensured that all the requirements needed during actual accreditation are attainable and was impressed with the centre's resources, facilities on ground, and readiness for the exercise.

"I hope to see better results on the recommendations we made to the centre," Akper remarked at the end of their tour.
 
Log in to post comments
108 views