Tope Oyewole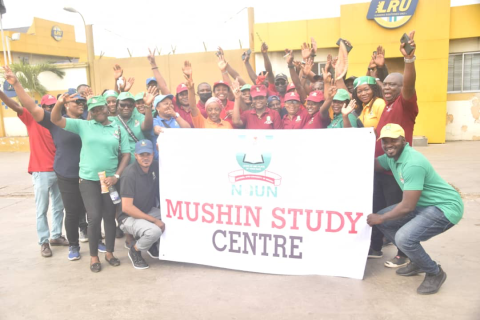 It was a thrilling and successful day for the staff of Mushin Study Centre of the National Open University of Nigeria (NOUN) as they embarked on an advocacy walk around Oshodi and its environs in Lagos State.

The exercise, held on Wednesday, February 16, 2022 took off at the Digital Bridge Institute, Oshodi, with the centre director, Dr. (Mrs.) Yemisi Ogunlela leading the team comprising of the centre's Chief Accountant, Mr. Oladuja Olarenwaju, the students' councillor, Mrs. Abimbola Adedolapo-Ali, among others.
From there, they headed to Cappa, where the centre was formerly located before moving to Mushin spare parts market in Ladipo.

Ogunlela said the purpose of the advocacy walk was to create awareness about NOUN's educational programmes and also intimate the people on the ongoing registration and admission.

She stated that the outing also presented an opportunity to remind people in the Mushin/Cappa area that the centre is presently located in Victoria Island,as, according to her, some section of the public is of the assumption that it is no longer in operation.

The director pleaded with some of the interested persons who wanted to enroll but requested the study centre be present in their locality to exercise patience.
Ogunlela promised that the centre will engage the management of the Digital Bridge Institute as it is close by so that a liaison office can be situated there for admission and registration of courses.

Some of the committee members took turns to explain in their local languages the benefits of studying at the university, saying that it is flexible and cost-effective.

The 3-hour walk was filled with a lot of energy,as staff had flyers and banners with NOUN's inscriptions, as well as the billowing background music attracted multitude.
Log in to post comments
71 views