Tope Oyewole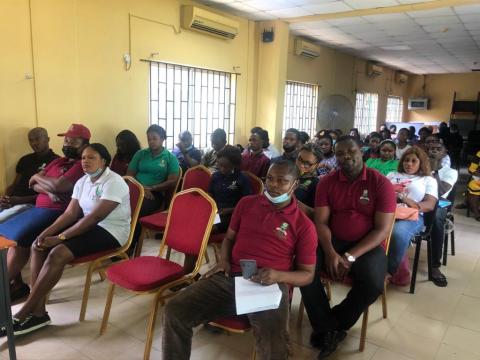 The Mushin Study Center of the National Open University of Nigeria on Wednesday held a briefing for students towards the forthcoming examinations.

The study center director, Oluyemisi Ogunlela led other officers in laying bare the dos and don'ts of the NOUN examination, with the Deputy Assistant Registrar, Mrs. Kate Anuobi in attendance.

Principal Assistant Registrar, Mrs. Ejiro Ojo, on her part, enjoined students to prepare fully for the forthcoming exams and stay away from any form of malpractice as it comes with dire consequences.

The centre's Chief Accountant, Mr. Olanrewaju Oladoja, also briefed students on the payment process and the importance of full payment of school fees before they can be permitted to write exams.
He also emphasized on the access documents to the exam hall, which he outlined as: agreement form, exam slip, remittance receipt, clearance form and school ID card.
 
Oladoja then advised against business center or third party registration stating that the school registration process is an easy one that can be done by oneself.

Student Counsellor at the centre, Mrs. Abimbola Adedolapo-Ali, encouraged the students to organize tutorials and learning circles as they aid assimilation, advising that each student should understand his/her schedule and how it works best for them.

She pointed out the importance of appropriate dressing to examination halls, reminding them of the option of spreading out their courses into other semesters instead of pressuring themselves and then resorting to bringing in microchips to the exam hall.

She also enlightened students on how incomplete TMA or complete TMA without exams is as good as "no exams."

The Unit Head, Management Sciences, Mr. Francis Omoudu, also advised students who will be writing Pen-On-Paper (POP) exams to ensure that they are at the right venue to avoid mix-up of scripts.
 
He sued for a legible writing for those who will be writing as it would be easy for the scripts to be marked by lecturers.

On his part, the ICT director, Mrs. Jumoke Balogun, explained that the appropriate way to search for courses on the E-timetable is by typing the course code in the search box and not the course title.
 
At the end of the briefing, students were allowed to ask questions, and answers were promptly given.

 
Log in to post comments
54 views