By Debbie Nduba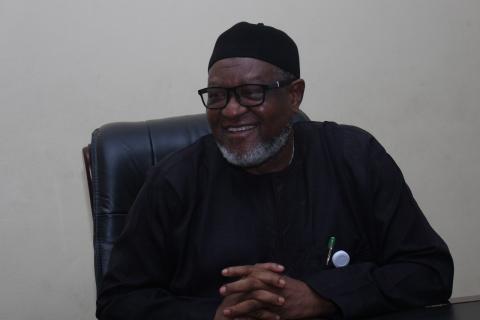 One of the big shots during his days at the National Universities Commission, (NUC), Prof. Chiedu Mafiana is again in the midst of things now at the National Open University of Nigeria (NOUN), as he just assumed office as the sixth Deputy Vice-Chancellor, Academic, of the university. The immediate-past Dean, School of Postgraduate Studies of NOUN, he succeeded Prof. Uduma Oji Uduma in his new task following the  official handing over ceremony on the 27th October, 2023.
Maf, as he is fondly called, is an articulate being, relational with a good sense of humour. A man whose wealth of knowledge spans through spheres of life. In a chat with NOUN news correspondent Debbie Nduba, he bares his mind on progression of NOUN and how he will support the vision and goals of the Vice-Chancellor in bringing NOUN to greater visibility, among others.
Your predecessor, during his handing over speech said his successor is someone that Nigerian university system does not need any introduction. "Mafiana is a blessing to NOUN and I believe that the university will leverage on his wealth of knowledge to improve the process in attaining our vision and mission."So briefly, sir, who is Prof. Chiedu Mafiana?
Chiedu Mafiana is a 64-year-old man, who hails from Delta State, studied at the University of Lagos and Benin and took a PhD. I am one of those fortunate persons who the benevolent spirits have cracked their palm kernel for them. I started work at the University of Agriculture, Abeokuta and in the process, I had the opportunity of working with some professors who first came into the university from diverse places, so at that point, the University of Agriculture, Abeokuta, had a good number of teachers from whom we learnt. At that time, I was just 29 years or thereabouts. I was fortunate to rise through the ranks up to professor, went to National Universities Commission (NUC) on sabbatical leave and returned to the University of Agriculture, Abeokuta, where I became the Director, Academic Planning.
Two years after, the NUC also asked me to return to the commission and so when my predecessor made those comments, I think it will be with respect to the fact that one was also fortunate to occupy certain positions where the  benevolent spirit also smiled at me. I was director in the Executive Secretary's office ,where in particular, I was responsible for the accreditation of programmes in all Nigerian universities for about seven years, after which I became the Deputy Executive Secretary and so through the period, I had the fortune of working for all Nigerian universities. So working through the Nigerian university systems, it was easy for me to understand the issues in that system. I criss-crossed the entire system observing the ups and downs the Nigerian universities were undergoing and of course it was in one of those assignments that my part crossed with my predecessor, of course, those might have been responsible for the comment he made, otherwise, Prof. Mafiana is one person whom God has blessed.
You delivered your inaugural lecture recently and, few months later, you have been appointed the DVC Academic, was it a criteria or rather were you aware of this position before you delivered the lecture?
That's a good question, with benefit of hindsight, it would appear that the persons in power were already priming this individual called Prof. Mafiana. Like I said in the process, the inaugural lecture would have been delivered some 16 years earlier, at which point, I have moved on to the NUC and when it became time for me to return to the university then to deliver the lecture some political  issues came in and I said I think I was done; I would no longer deliver but the inaugural lecture of one of my colleagues from the  Department of Biological Sciences, the Deputy Vice-Chancellor told me that I should honour him by delivering an inaugural lecture while he was still in office. Earlier, the Vice-Chancellor has told me 'Maf, we think we want to listen to your inaugural lecture since you have not given and we will be happy to have it in this university.' I had said the only lecture I would deliver would be my valedictory, so I have to bend over backwards to do so, and so when one found oneself in this kind of a situation, you will say ok, was this the pot they were putting on fire to ensure that this happen before this, in truth I didn't know.
The DVC Academic office is a sensitive office because of its academic nature, so what are your agenda?
Well, as I always said, let me remind us, while I was taking over the comment I made was to the effect that I have always been a deputy: in 2014 I became the Deputy Executive Secretary, NUC, so I became the Director Quality Assurance, that perhaps prepared me to become Deputy Executive Secretary, NUC. Under professor Okojie I served two years, the remaining two years of my time was under Prof. Abubakar Rasheed. I served two different persons as their deputy and I keep saying that the work of a deputy is as important as the chief executive wants it to be. It is true that there are some statutory functions that the DVC was created to service and indeed of the fifteen that one identified, the DVC Academic shares at least six of them, which is quite handsome, and to that extent I wouldn't say I have an agenda because we are working towards the agenda of the VC who is the chief executive. So whatever one has to do would be to refine certain academic activities that we have in the system and appropriately put such forward to the VC if it will be pleasing to him, because on the whole I will be very frank, I have no agenda, my agenda is to ensure that which the VC desires to achieve, we assist him to achieve that.
Taking you back a bit, you were the immediate-past SPGS Dean and I am so sure this is a different responsibility all through, how will you describe this new position? 
Well, you see like we are also told the Dean SPGS is also called 'the dean of deans,'so the Dean of Postgraduate School is fortunate to be the primus inter parish of the other deans. In other words, you superintend what every other dean does, you as the Dean of Postgraduate School also oversee virtually every department that offers postgraduate programme, so that is as far as academic matters are concerned. The university is an academic environment and so such positions perhaps begin to prepare you for higher responsibilities and the experiences one has gained in being the dean postgraduate school, particularly, this is a distant learning programme, Open and Distance Learning (ODL) programme, which in itself, I had to come and learn the what, the how of the programmes of the university as different from the brick and mortar system that we know and just now I am still learning the ropes because it's an exciting place to be.  
Now as DVC Academic, that office requires one to also have a bird's eye view of a lot of academic activities going on in the system and so having come from the postgraduate school, it is as if the persons who have given you appointment know what they want you to come and do, so they prepare you. I would say that it appears to me that they were priming me for a higher responsibilities. So for me it is much broader responsibility than being a Dean of Postgraduate School; but this time, looking at undergraduate activities, we have diverse students and diverse activities go on. For instance, if you take the way we present our results, they are unique themselves, so you need to be in a position to carry on this, some of them quite sensitive, or is it the day-to-day affairs of faculties or is it helping the VC to ensure that the academic components are doing what they are supposed to do or is it the discipline of students as it were. So you find some of these things that go on, which one thinks that one could build on from the activities of the Postgraduate School.
 Do you have any plans regarding some academic programmes in the university?
We will always have plans. There is no way there will be nothing in the purview, but mine having just assumed duty, is first of all, to see where we are coming from, go back to where we are coming from, in the beginning of times of this university. I have a fair idea of that because I was in NUC. Second is to see how we have transverse that time up to this moment, what have been our challenges, what have been our failures and what are the things we had expected to achieve that we have not achieved and why have we not achieved them? The responsibility now is to ensure that those things which we have not achieved, this is the time to put the plate on fire, don't forget that the greater problem that one will have to contend with would be the new private Open and Distance Learning institutions that have been established, that is the challenge, because if we were lackadaisical, at this time, nobody will ask you to sit up. So, what are those things we have been doing as a system, whether with respect to our staff or respect to our clients who are the learners. What have we done right, what have we not done so right, what have we not done at all to ensure that the competition that is starring us in the face, we will be able to surmount that.
We have a good level of clientèle at the base level (undergraduates) for instance, so we are again going to look back, where are the areas we have not made impact, which areas would we like to make impact. The advantage we have just now with these new institutions is that they don't have postgraduate studies, so no matter how much they compete at the base level, we are beyond them. We need to strengthen the postgraduate aspect of our work and I am in talk already with the new dean of the postgraduate school for this to happen. Are there programmes even at the undergraduate level, we think we have a comparative advantage over the rest of the people? We must strengthen those programmes, we may not do away with the other programmes that may not be bringing people but those programmes, which we think we are doing well, we must do so much to ensure we do so well and get on much higher and faster than the others. Don't forget also that we pride ourselves as the largest in the sub-region and we must not do anything that would reduce where we are but rather, we must continue to go up. 
So what will they be, new programmes will likely come up but for them to come up, we must ensure that they will meet the requirements of our prospective clients to the system. Now exams and practical's  are on-going , you find that we have a lot of young people in our system. The young persons have taken over so what are we not doing right, we will key-in to all of those, the VC came with some vision, our business is to ensure we work accordingly if possible, he has fought his battle through the midway, and I call it battle of the midway, he has just another half of the time to stay in the system, so what that means for us is that we review what has been done, what is left within the time and how best can we now move forward. So DVC Academic remains that person who must continually work and interact with the VC to ensure that at any point in time , sometimes we travel, we all travel, so you go out, what are the things you have seen, what can you bring back and how can we put them together. If you observe a number of persons travel now and the travels are not just to earn money, they are travels, studies that they must bring back information of which we need to redefine and refine our system.
DVC Academic is always the chairman of Ceremonials Committee, overseeing the organisation of convocations, inaugural lectures etc, do you have any plan of introducing or coming up with new strategies in improving these events?
That's a difficult one because I don't know where the challenges have been except you point out a particular challenge, I will then say this is what I will do.
Why I am reluctant answering this question is that I have had comments. The only thing I can say is because the university and indeed the university at large work in a committee system which is very important. Sometimes, we don't understand why committee work is important. Committee is to harvest people's opinions, ideas and agree on a direction to go. One man cannot do everything, so we will begin to ensure that the right persons are in those committees, because the ceremonies are known, so we must plan ahead of time. I know that our convocations take place in March or thereabouts, so any moment from now, we must be thinking of what we are going to do in March. For me, there will be no fire brigade approach. We must thrive on committee and sub-committee system. It will not be a case where one man does everything; that's not going be under me.
And for inaugural lectures, perhaps I was lucky to do mine, having had the opportunity of the VC and my predecessor in pressing upon me to give mine, that means one is well suited to also see to arrange all of these and ensure that ahead of time and to ensure that the persons who will give lectures begin to prepare well ahead of time to do so.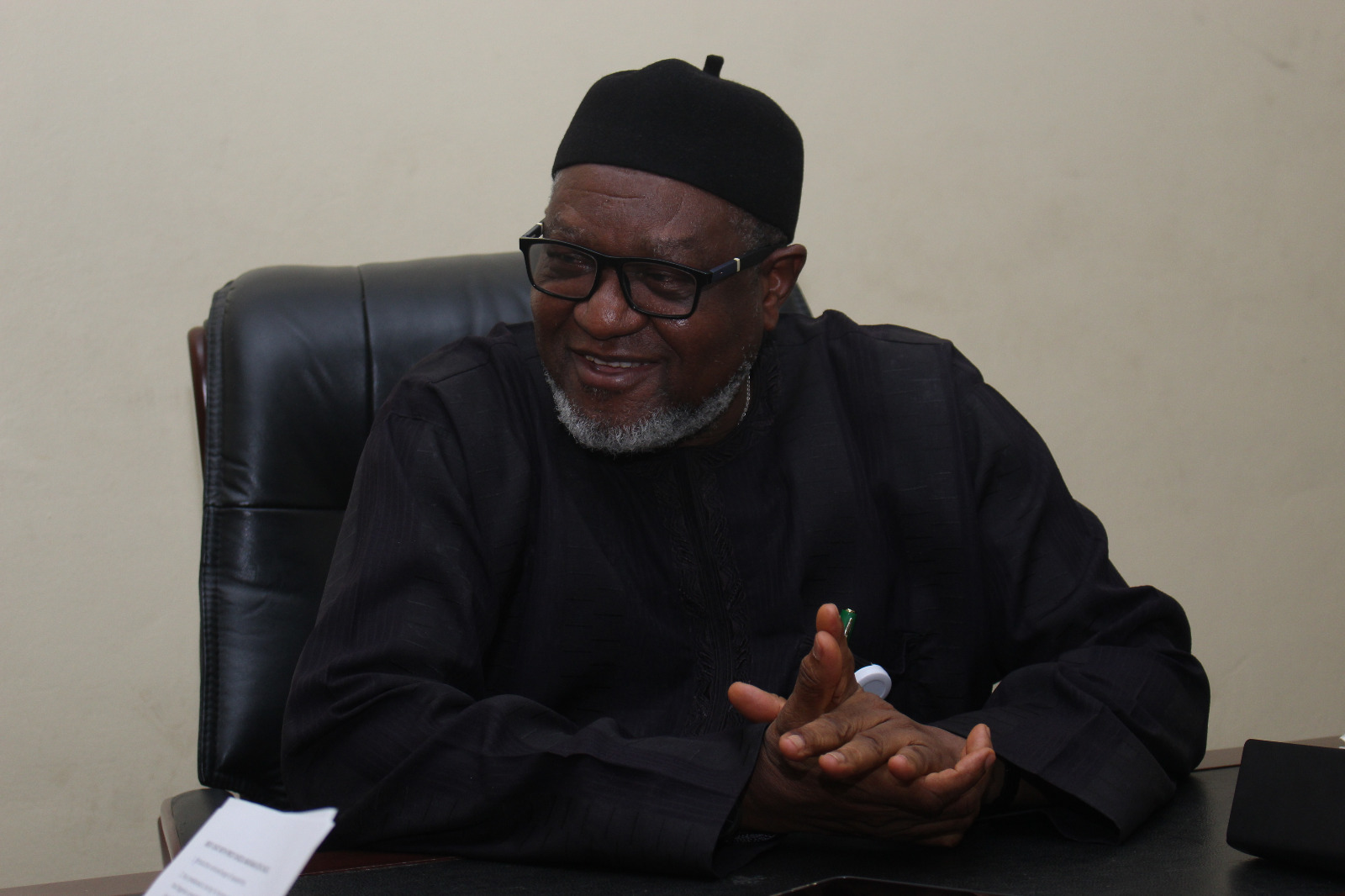 As the former dean, what exactly are the legacies you left behind that stand out and what will you attribute that success to?
(Giggles), I am going to disappoint you, because you know, anybody in this university holds office by the grace of the VC. So, the law recognises only the VC. It didn't recognise any of us as this nor that. So when I was in SPGS, I built on what is there. I wasn't a pioneer in the school of postgraduate, so it is difficult for me to say I did this much, I didn't do this much. No, I won't say so, if there were innovations that came at that point in time, it's because I have the support of the VC. If I didn't have support of the VC there will be no innovation. So it is not me doing it. I will be very frank with you, there is nothing that was done in the SPGS that did not have the prior approval of the VC, because knowing what it is at that level of responsibility, you cannot run a parallel administration. So that's why I am unable to say I did this or that but what we are trying to do, is to ensure that the SPGS has a good relationship with the various faculties and departments, without them, I  don't know if you will be happy to hear I am the only academic staff in the SPGS. I cannot now be having that emulsion that I did this , or that. There were people, and often times, those people who are responsible for those jobs and so called successes are hardly mentioned., So I won't take that glory only to say that those young men and women that worked with me in SPGS are fantastic; I even learnt so much from them. So if we did anything, they are also part of it, and it may interest you to know that at that level we started the virtual defence which we thought was difficult, we have been able to get through the virtual defence of our projects and we also had very good relationships with the  departments, it wasn't very  smooth across the board but you know human nature, human interactions when people are discussing, for as long as you are discussing, you might note that there is something at the background, something wrong, individuals have their idiosyncrasies, they have their thoughts, habits, they know where they are coming from, and you are not dealing with children, you are dealing with adults whose opinion has been formed. So you must have that skill to be able to get them to think in the direction that you do. On the whole, I think I learnt from every one of them. We took time with my staff, we go from department to department, especially when people are resistant when they receive memo.
In view of what we are bringing on board, we are also hoping that the VC will be pleased if and when we put the documents together which is ongoing. This travel things are not easy and the roads are not safe and if we pride ourselves a distant learning institution, an open learning institution that thrives on technology, you are aware that the DEA also conducts exams on demand, so we expect that we should also employ technology to ensure that undergraduate exams and moderation are done virtually to curb people running helter all the place, everything goes online. I am having discussions with the respective directorates that can make it happen so that the centres will just upload and examiners look at it and put the score, so that wherever you are in the surface of the earth it can  be viewed. So, in earnest, what we want to do is to ensure that technology is put in place properly to do a lot of our work, which we will be discussing with DVC in charge of TIR.
As the DVC Academic, what is your projection for NOUN, academically, in the next two years?
Even if we want to start sleeping, we can no longer do so, because we are unlikely to sleep in peace. If we believe that the only open and distance learning institution and the biggest in West Africa, no time has passed for those ones. Our projection would be first of all to take the challenge of government as we have been challenged and this challenge should catapult us, nothing to be afraid of. We are already on ground in the 37 states of the federation, so we expect that before this VC's  term is over there must be a significant increase in the number of learners that want to pass through the National Open University Of Nigeria (NOUN). Second is that those persons particularly workers and those who want to apply, some of these people  don't really need certificates, some of them are big people all over the place so there must be continuous learning, we must open up a space for programmes that are not necessarily academic, programmes like micro credentialling, creating an avenue for people to move on, short courses put together, we make it. So, everybody in the next few years, one is not expecting that everybody coming into this university is coming to take a degree, one can just delve in a certain area that is of priority/interest to add some certificates. ACETEL is there, there are certain things they are doing and we hope in the two years, we will be getting there, so that whoever that wants to become a Vice-Chancellor, the current VC would have reached a level. You can see that from the first VC and so on .The first VC wouldn't have been where we are now but he started from somewhere and you know the beginnings are very difficult, everybody built on something and not necessarily condemning what other person has done , whether you like it or not, everybody puts a brick on the other brick. So that continuity should be there so that whoever will come after now may even want to refine some of the things that have been done and push the system forward.
In a scale of 1-100, what percentage will you score NOUN, as regards exam process, missing scripts, malpractice, supervision etc?
Again, that's another difficult question, difficult in the sense that I do have personal opinion, I would say for now, that NOUN has tremendously improved. I made this statement coming from the background of a regulator, having worked with NUC and having been responsible for some of NOUN activities, between that time and now of course it cannot be the same, so NOUN has significantly improved on its processes, be it admission, here and there, there will be some things. We who work here must programme ourselves knowing that without those people we call our clients or students we are nothing and indeed the difference between a university and a research institute is the presence of those students every other thing goes on in the research institute. So those students are our clients, we must refine our admission processes, complains here and there. We are human, we must refine how we relate with these client, for you to know how big this university is, is not what we are seeing here, 37 states we are there and some have more than one study centre and the headquarters is already here. How do you monitor, regulate these exams, for you to see how beautiful our processes are, sit at 8am a few minutes to that time, all questions are released to all the study centres at the same time, it's a marvel.
So, for you to continue to do well, our examination processes must be well, sound, because if there is no integrity in the examination processes, then the institution does not exist. We have a backlog of disciplinary cases with respect to exam, we must ensure we don't keep them for too long before dispensing them. So, NOUN has done well, there is still room for improvement and unfortunately there is competition, those ones will want to be seen, because we are the ones to mentor them and so they must continue to come. In a nutshell, NOUN is doing well and there is still much room for improvement.
As a former staff of NUC and a big shot in the scheme of things with much experience, how are you bringing in the wealth of knowledge you've garnered over the years in improving NOUN's academic standard/programmes?
Ok, things must be done timeously, accreditation is going on and this cannot be when people are running helter skelter to buy equipment, what we usually say, when we come to accredit is what have you been using to teach the students, not what you have just bought. Have you use it to teach the students? You said no, it's not only this university. The Director Academic Planning has done so well, because ahead of time, he begins to prime the respective departments, the VC will ask what is the requirement, so as a regulator, we always ensure that things are done as early as possible so that it will become easy and become part and parcel of the system not because accreditation is coming that you want to do that.
Then, the university, I am also watching how training goes on in this place. An official report I have a fair idea of number of persons sent out to do one or the other. We must draw a line between I have been sent somewhere to do this, it is not the money that is the important thing, I am not saying money is not important but I am not saying is because of the money, what are you bringing from there to say if we do this we will be better if we are to benchmark this against this. At NUC level, we are usually interested in the quality of the students, we are interested in the quality of the laboratory facilities, quality of staffing and the general environment in your library. So by the time you pay attention to each of this, don't go and sleep after you have done accreditation and you have full because they are coming in the next five years. I see it all over. So, this university is not exempt, so we must continue to improve our processes.
 In a lighter mood, you are fondly called 'Maf,' so how does Prof. Maf relax outside the confines of his work/office?
This is a difficult one. You know why? I do nothing. I don't play games, occasionally I may watch football out of pressure, then my book around me but people are my interest and once my father asked me in 1980 when I graduated from the university, a number of friends came and he asked me: 'is the whole Lagos your friend?' So I am a fairly serious person, you may not get me in a lot of social things but in my mind, I am a social person. I truly like to approach people, talk to them, find out what is bothering them, if we can solve it, good,  if not, by word of mouth. I play my game well, so long there is life, if there is life, there's hope. I just keep friends.
Log in to post comments
212 views