By Inuwa Hamza Yunusa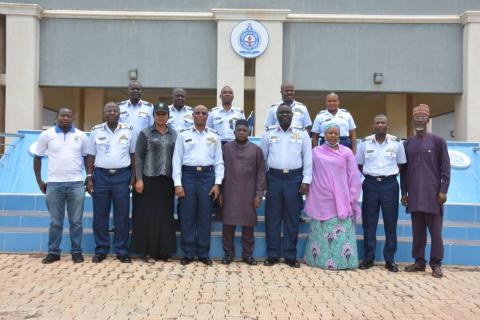 The Director, Special Study Centre for the Nigerian Air Force Base, Kaduna, Prof. Nda E. Mundi has visited the Commander, Air Training Command, Kaduna for a familiarisation purpose as well as to follow-up on the already tabled needs of the centre.
Mundi, who congratulated the commander on his new appointment, explained the operations of the National Open University of Nigeria (NOUN), its students' admission capacity, available courses and other benefits for the personnel and families of the Air Officers and beyond. 
He then outlined some of the challenges of the study centre, which were already tabled to the commander's predecessor as well as the efforts to address them.
The director, however, cited some of them to the new helmsman, which include: inadequate structures for office accommodation, examination hall and store office, among others. 
Based on the series of requests the centre made toward the facelift, the director submitted to the commander the proposed architectural design on how it should look. 
Responding, the Air Training Commander, Air Vice Marshall, AO Jolasimi, admitted that he was in the clear picture of what the centre needs. 
He said as one of the members constituted for the relocation of the NAF Study Centre from Regiment Training Centre (RTC) to its permanent site, he was surprised to see it situated at Mammy Market instead of its originally-approved, site which, according to him, is more spacious, serene and conducive for academic learning. 
"The present situated site, which is at Mammy Market, does not speak well of a centre," he said, assuring to make consultation with the Chief of Air Staff to look in the issue.
He immediately assigned and ordered Air Vice Marshall, E O. Chukwu to swing into action of checking and confirming on the originally-proposed site assigned to the centre. 
Log in to post comments
94 views