By Inuwa Hamza Yunusa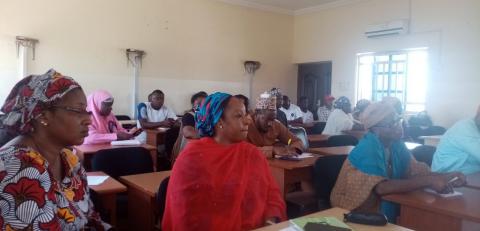 The Special Study Centre for the Nigerian Air Force, Kaduna, has held its orientation programme for the newly matriculated  students of the centre.
The director of the centre, Prof. Nda Mundi, in his address explained that university orientation programme is an avenue to make students familiar and aquinted with the university, its programmes and  modes of operation.
Moreover, he said, the orientation programme created an avenue through which interactive sessions were held with the newly admitted students.
Mundi added that orientation programme is very important  to the students and to the university system as a whole.
The director substantially spelled out the academic programmes and mode of instructional delivery of the  National Open University of Nigeria.
He explained the mode of instructional delivery as a process through which educational instructions are delivered to the students. 
He further outlined printed instructional materials, audio tapes, CDs, television and radio programmes as processes and modes through which the university delivers its educational content to the students.
He maintained that National Open University of Nigeria is at par with any other university in Nigeria and beyond and further stated that all the courses and programmes of the university are approved and accredited by the National Universities Commissions.
"NOUN over powered all other conventional universities in the. country in terms of standard which is characterized as 21st century university operating based on modern system of Information and Communication Technology," he said.
Therefore, he congratulated them for being the bona-fide students of the university and thanked the students for choosing NOUN as their university. 
In the occasion, the Principal Assistant Registrar of the Centre, Maryam Usman Kida, Chief Accountant, Mrs. Mary Amuedo, Head of ICT, Mr. Bashir Muhammad, spoke on registration procedures and documentation, bursary payments and fees, university portal and login procedures, respectively.
Log in to post comments
151 views