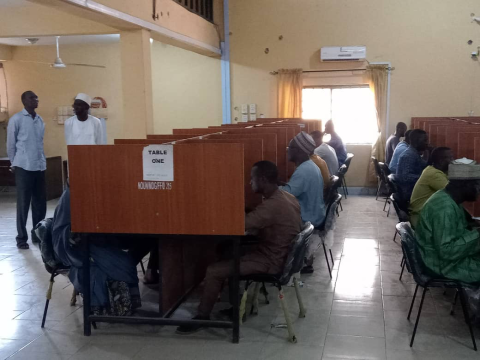 The Dean, Faculty of Agricultural Sciences, Prof. Ahmed Amin Njidda, has visited the Maiduguri and Damaturu study centres where he commended the frictionless process and the orderly conduct of the ongoing 2021_2 e-examination.

While at Maiduguri, the dean was received by the centre director, Dr. Muhammad Yahaya, who took him round to the  halls where he monitored the conduct and the general administration of the ongoing examination.

Njidda was highly impressed with the smooth conduct of the examination and described it as perfect, orderly and well organised.

He extolled the virtues of the students for being well-behaved, orderly and in compliance with the rules and regulations guiding the exercise.

He certified that there was no evidence of disorder or examination irregularities recorded during his monitoring tour of the centres.

Attributing the success and seamless nature of the examination to the centre director's excellent leadership, Njidda also acknowledged the harmonious working relationship and spirit of team work among the staff of the centre.

He commended the centre director, Dr. Muhammad Yahaya, and his staff for their exceptional commitment in ensuring a seamless examination.

In his interaction with the staff and students of the centre, after the exam, on their experiences on the ongoing 2021_2 examination, the students voiced their complaints and identified  some challenges they were confronted with, and the dean assured them that their complains would be forwarded to the relevant authority for consideration.

While at Damaturu Study Centre, the dean, who was taken round by the centre director, Dr. Muhammad Machina, described the whole exercise as smooth and excellent devoid of hitches.

He, however, witnessed a case of impersonation at the examination hall which the management of the centre was able to resolve appropriately.
Log in to post comments
213 views