By Joel Nkanta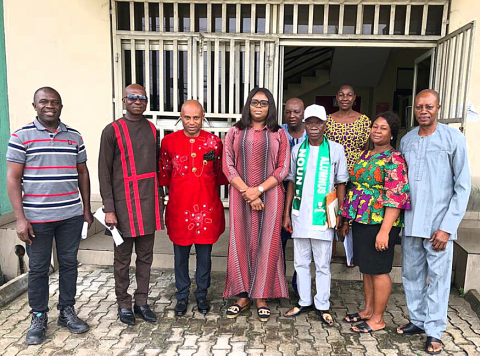 The executive body of the National Open University of Nigeria Alumni Association (NOUNAA), South-south Zone on Friday, June 25, 2022, paid a courtesy visit to the Director, Port Harcourt Study Centre, NOUN, Dr. Nnenna Nancy Chukwuma, in her office.

The National Vice-President (South-south) of the association, Chief Ikechukwu L. Ojobah, who led the delegation, explained that they were there to congratulate the director on her "new assignment as our incumbent centre director" and to express "that we're ready and willing to work with your office to make Port Harcourt the Alumni hub of the South-south region."

Ojobah presented to the centre director a proposal for a 4-item roadmap for his association's programme of action which included consultation/familiarisation visits to all the state chapters under the South-south Zone beginning with the Port Harcourt Study Centre; and to hold enlarged congress/seminar, in conjunction with the study centres, on the role of alumni members in a university environment.

Other items listed in the proposal were to initiate social engagements that would arouse the interest of members for effective participation in alumni activities, and to create and sustain a functional databank of members from 2014 to date for effective communication and interaction.

In pursuit of the realisation of the proposed programmes of the association, the alumni chief, prayed Chukwuma to provide for his association a furnished office space with Information and Communication Technology (ICT) equipment befitting the South-south NOUNAA headquarters; contact details of members generated from the centre records, and to afford the association every necessary support.

Chukwuma, in her response, expressed her delight at the visit of the body. She said she would be looking forward to seeing a vibrant and viable state chapter of NOUNAA that would play a fulcrum role for the association in the South-south region.

She however, regretted her inability to make any promise on the association's request for an office space, explaining that the centre building was already too compacted that even the Regional Media Office has to share office with staff of the centre. She further revealed the senior assistant registrar and the two assistant registrars at the centre were sharing office spaces with other staff because office spaces are not adequate at the centre.

The director, while advising the association to operate from home assured them that the faculty desk officers had records of graduating students which would enable them to develop their data bank.

Chukwuma, however, counseled the leadership of the association not to meddle in the issue of students' facilitation as that was an exclusive affair of the management of the university, but assured them that the students were in safe hands with the university.

She also charged them to trace their members and make effort, by adopting the wholesome principles of networking, to know what each of them is doing after graduation.
Log in to post comments
69 views