By Inuwa Hamza Yunusa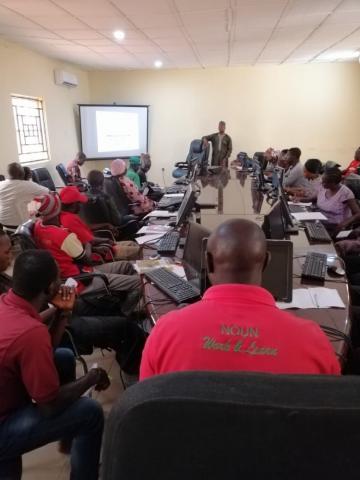 The National Open University of Nigeria (NOUN) is a technologically-driven institution, making it pertinent for each and every staff of the university, irrespective of his or her cadre, to be a computer literate, director, Centre for Human Resource Development (CHRD), Prof. Grace E. Jokthan, has said.
Jokthan, represented by the Principal Assistant Registrar of the centre, Mr. Abimbola Esther at the opening ceremony of a 2-week in-house Basic Computer Training Workshop for junior staff of the centre, explained that NOUN is a 21st Century institution, where technology takes Centre stage.
She said such centrality of the technology to the university's operations is what necessitates the need to always improve the computer knowledge of staff.
The training is expected to cover basic operations for both the junior and senior staff as well as advanced skills such as Excel, PowerPoint and Microsoft Word, the director explained.
As such she added, "the training was categorized into two in order to learn at our own paces. Those with basic computer knowledge would move to the next class, which is excel and for those with less or not familiar with the computer would start from the basic computer operation."
She discussed that the reason for the advanced computer training chosen for the senior staff, was that "it has been assumed that they all have basic knowledge of micro soft word, coral draw, PowerPoint and a host of others, which they use in their day-to-day office operation. What is required for them is the advanced training in area such as Excel PowerPoint, etc.
"The staff who have no computer knowledge wil no doubt have basic background on computer operation before proceeding to the next stage and for those that already have would commence with the excel, that is the advanced stage."
Log in to post comments
240 views